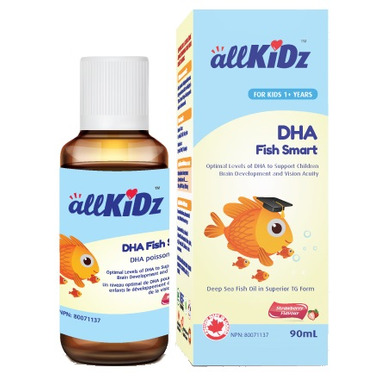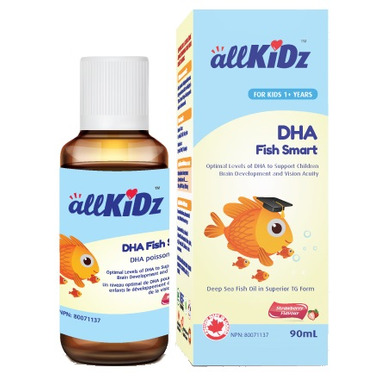 allKiDz DHA Fish Smart is a superior fish oil that naturally supports kids' brain and vision development.

Features:
DHA (Docosahexaenoic Acid), a member of the essential Omega-3 fatty acids, is absolutely vital for brain development and function in childhood
Provides the optimal level of DHA for better brain & vision development
Right from the beginning, we source the highest quality, deep-sea, cold-water fish using traditional, sustainable methods approved by Friend of the Sea
The finest fish oil in TG (Triglyceride) form features greater absorption and biostability
Fish oil raw material: Halal certified, ISO9001 certified
Awesome strawberry flavour, no fishy taste
No artificial flavours, colours or sweeteners
No dairy, soy, sugar, wheat, yeast or preservatives
Gluten Free
Directions:
Children 1 – 3 years: 1 serving (0.75 mL, 1/6 teaspoon) 1 time per day. Children 4 – 9 years: 2 servings (1.5 mL, 1/3 teaspoon) 1 time per day.
Medicinal Ingredients (per 0.75 mL):
Deep Sea Fish Oil in Triglyceride form.....500 mg (DHA 100 mg, EPA 50 mg)

Non-medicinal Ingredients:
Natural Lemon Flavour, Natural Strawberry Flavour, Extra Virgin Olive Oil