Alter Eco Dark Organic Chocolate Salted Almonds
Roasty Toasty Crunchy
80g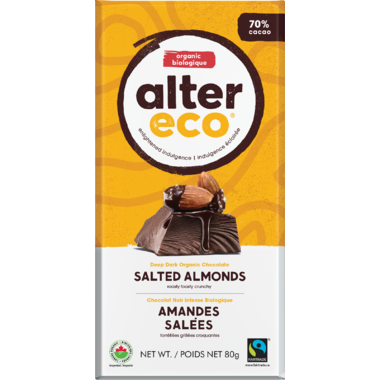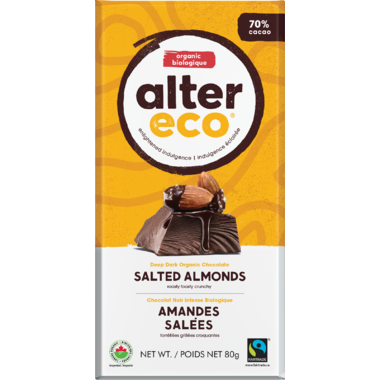 Alter Eco Dark Organic Chocolate Salted Almonds
Roasty Toasty Crunchy
80g


Almond lovers, here's something you can sink your teeth into. Roasty-toasty almonds take their place among deep Ecuadorian chocolate, with a sprinkling of coveted Fleur de Sel de Guérande to heighten each and every flavour. This a classic standby is transformed into a bold, balanced and sophisticated addiction.
Features:
Fair Trade
Organic
Non-GMO
Gluten free
Vegan friendly
Ingredients:
*Organic cacao beans, *organic raw cane sugar, salted almonds (almonds, sea salt (fleur de sel)), *organic cocoa butter.
* Traded in compliance with FairTrade Standards, total 88%.
Contains milk. Made on equipment shared with hazelnuts, almonds, coconut and soy.