Ameda Purely Yours Double Electric Breast Pump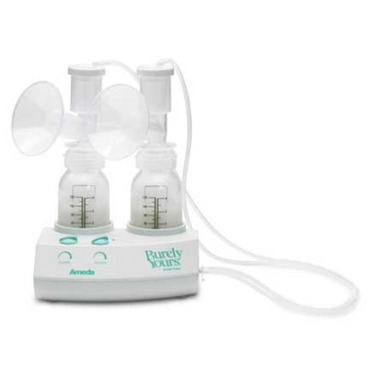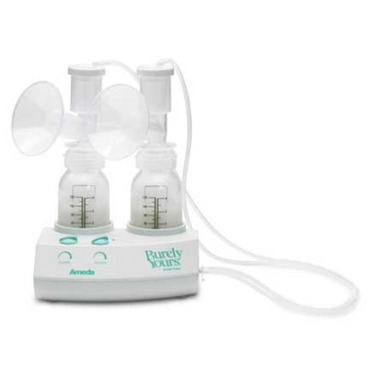 Ameda Purely Yours Double Electric Breast Pump
This item is a final sale item. Returns cannot be accepted.
Whether you are returning to work or want a fast and easy pumping experience, the Ameda Purely Yours Double Electric Breastpump, designed for daily use, is the ideal breast pump. The Ameda HygieniKit® Milk Collection System included with the pump allows a mother to double pump to save time. Studies find that double pumping can also help increase milk supply.

Ameda Purely Yours Breast Pump is portable and lightweight, making it convenient to transport.

The Ameda Purely Yours pump works with 3 different Power Sources—AC adapter, 6 AA batteries, car adapter and is lightweight and portable—Motor weighs just 1 lb./0.45 kg.


The Ameda Breast Pump Difference:
Purity. Ameda has the world's only breast pump kit with a proven protective barrier. Proven Airlock Protection™ keeps tubing dry by preventing air flow between the expressed milk and pump tubing while pumping. No need to clean the narrow tubing and milk stays pure.
Comfort. The Ameda CustomFit Flange System™ makes it easy to find a good breast flange fit by offering seven breast flange sizes that adapt to all Ameda breast pumps and kits.The Purely Yours Ultra includes three of the most commonly needed flange sizes, and easily adapts with four additional sizes (available separately).
Ease. Ameda breast pumps feature fully independent CustomControl™ settings for speed and suction. Dual adjustability lets the mother select her best levels for
Have you explored and compared the different types of breast pumps available? Check out your options and determine how to choose a breast pump that is best for you on our blog, The Well.
The Ameda Purely Yours Double Breast Pump Includes:
(1) Purely Yours Breastpump
(1) Dual HygieniKit Milk Collection System (without BPA and DEHP)
(2) 4 oz./120mL milk collection bottles with lock-tight sealing lids
(1) AC power adapter for wall plug in

(1) Instructions for use
Dual HygieniKit Milk Collection System Includes:

(2) 25.0 breast flanges
(2) Silicone diaphragms
(2) 4 oz./120 mL bottles
(4) White valves
(2) Adapter caps
(2) Silicone tubings
(2) 2-piece lock-tight bottle caps
(1) Instructions for Use
*Requires 6 (AA) batteries
*Car adapter not included
*This breast pump comes with a total of 2 baby bottles
Jane:
more than a year ago
I did a ton of research before buying a pump. The bottom line is that pumping can be hard and wont work for everyone (or even everyone all the time). That means that pumps get as many 5 star reviews as 1 star reviews. This pump is no exception. From a technical stand point (i.e. suction power) this pump is identical to the Medela, but it's almost half the price. Bottomline, this is a great and straightforward pump with no frills. The only downside I've found is that it only comes with one size flange and other sizes can be hard to find. I had to special order a smaller flange insert from another online store to get a comfortable fit.
Page
1