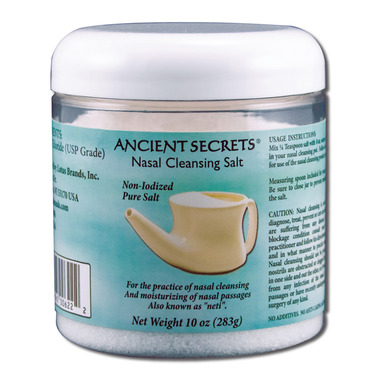 Description
Ancient Secrets Nasal Cleansing Salt Packets are ​Non-Iodized pure salt for the practice of nasal cleansing and moisturizing of nasal passages also known as "neti"

Usage instructions: Mix ¼ teaspoon with 8 oz luke warm (not hot or cold) water that has been previously boiled or distilled into your nasal cleansing pot. Follow the instructions for use of the nasal cleansing product you own.

Ingredients: Sodium Chloride (USP Grade). No additives, anti-caking agents, or iodine.

Caution: Nasal cleansing is not intended to diagnose, treat, prevent or cure any disease. If you are suffering from any disease, infection or blockage condition consult your health care practitioner and follow his directions as to whether and in what manner to practice nasal washing. Nasal cleansing should not be practiced if your nostrils are obstructed or clogged to prevent flow in one side and out the other, or if you are suffering from any infection of the nasal, sinus or ear passages or have recently undergone ear or sinus surgery of any kind.
Highlights

Shipping & Returns