AOR
AOR Advanced B Complex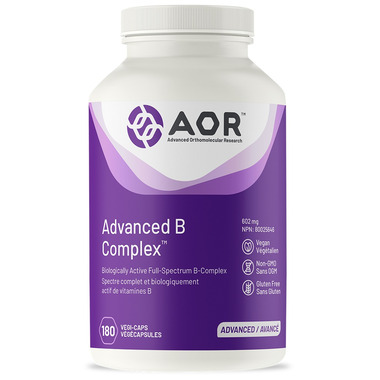 AOR
AOR Advanced B Complex
602 mg
180 Capsules
AOR Advanced B Complex
is rated out of
5
by
9
.
---
Description
AOR Advanced B Complex was designed to provide the most advanced forms of B vitamins in the most scientifically discerning ratios available. These nutrients help metabolize carbohydrates, proteins and fats for energy and support tissue and red blood cell formation.
Adult Dosage:
Take 1 capsule one to three times daily with food, or as directed by a qualified health care practitioner.
AOR Guarantees: that no ingredients not listed on the label have been added to the product. Contains no wheat, gluten, corn, nuts, peanuts, sesame seeds, sulphites, mustard, dairy, soy, eggs, fish, shellfish or any animal byproduct.
Highlights

Features
The most active forms of the B-vitamins
Balanced ratios and clinically-supported doses
Support for energy, stress, metabolism and nerve function
Ingredients
Supplement Facts:
Serving Size: 3 Vegi-Caps

B1 (Benfotiamine) 100 mg
B2 (Riboflavin-5-phosphate sodium) 7.5 mg
B3 (Niacin ? from 388 Inositol Hexanicotinate) 353 mg
B5 (Pantethine, Calcium d-Pantothenate) 300 mg
B6 (Pyridoxal-5-phosphate) 100 mg
B12 (Methylcobalamin) 1000 mcg
Folic Acid (calcium L-5-MTHF) 1000 mcg
Biotin 500 mcg
Choline bitartrate (provides 240 mg of choline) 600 mg
Inositol (from Inositol Hexanicotinate, Inositol) 393 mg?
85 mg from Inositol Hexanicotinate, 308 mg from Inositol.

Non-medicinal ingredients: microcrystalline cellulose, dicalcium phosphate, silicon dioxide, sodium stearyl fumarate. Capsule: hypromellose, chlorophyll.
Shipping & Returns
Rated

5

out of

5
by
Debonthelake
from
Arrived quickly, exactly as ordered
This brand was recommended to me by my brother who researches quality and purity of supplements. I found the price on Well.ca was a few dollars less than the local shop.
Date published: 2021-05-07
Rated

5

out of

5
by
Diane
from
Excellent Product
My vitamin B levels where low after being ill. This product brought them up faily quickly. No after taste no stomack issues . Both my husband and I use this product. Well . ca is very reliable company and their customer service is outstanding . I have recomended this company to many friends and family and will always continue to order from them.
Date published: 2021-08-30
Rated

5

out of

5
by
Carly
from
One of the best b vitamins out there. I feel better when taking it and even though it costs more money it's worth it because it has so much more vitamins and bioavailability than the inexpensive brands.
Date published: 2019-12-23
Rated

4

out of

5
by
Dale
from
Good price, and what I was looking for
I am glad you carry this. A very good product. I like your handwritten notes in the box. The only concern was how long it took to arrive
Date published: 2021-01-04
Rated

5

out of

5
by
sylvie
from
A truly complete vitamin B
Works beautifully for skin health & mood control. Does not stink like the drugstore choices. Will buy for a very long time.
Date published: 2022-06-02
Rated

5

out of

5
by
Ann
from
My doctor uses this brand
I am taking this product because a B complex vitamin is recommended for my age. My doctor takes this brand, so am I now.
Date published: 2021-07-02
Rated

5

out of

5
by
bh6
from
great supplement
Doesn't upset stomach, works well, take two a day as recommended by my NP.
Date published: 2022-01-30
Rated

5

out of

5
by
Maggie
from
This has worked very well to increase my husband's Vit. B level!
Date published: 2021-04-19