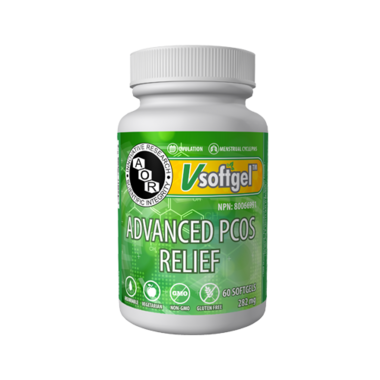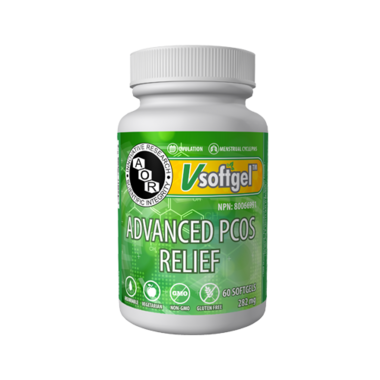 PCOS or Polycystic ovarian syndrome is a hormonal disorder affecting 5-10% of childbearing women and is the most significant cause of infertility among women of all nationalities. Symptoms vary greatly between women, but can include weight gain, acne, excessive hair growth, multiple ovarian cysts, and male pattern hair-loss. More serious manifestations include: hyperinsulinemia, elevated triglycerides, and difficulty breathing. A strong correlation exists between obesity, type 2 diabetes, use of valproic acid (an antiepileptic medication), and increased risk for developing PCOS. Further, there appears to be a strong genetic component to the development of PCOS.
Advanced PCOS Relief helps normalize ovarian function, ovulation, and oocyte quality, and normalizes menstrual cycle irregularities in women with PCOS. Advanced PCOS Relief also improves hormonal and metabolic conditions, and improves insulin sensitivity. In addition, it helps restore pregnancy rates in women under 36 with PCOS who undergo in vitro fertilization.
Features:
Ideal ratio of two forms of inositol for improved insulin resistance, and mood
Promotes healthy ovarian function and improves egg quality
Normalizes menstrual cycle and reverses some causes of infertility
Active form of folic acid for healthy reproductive, hormonal, heart and brain function
Suggested Use:
Take 2 softgels two to four times per day with or without food, or as directed by a qualified health care practitioner. Use for a minimum of 12 weeks to see beneficial effects.

Supplement Facts:


AOR™ guarantees that no ingredients not listed on the label have been added to the product. Contains no wheat, gluten, nuts, peanuts, sesame seeds, sulphites, mustard, soy, dairy, eggs, fish or shellfish.

Cautions:
To ensure a timely treatment of a serious cause of infertility, consult a health care practitioner prior to use. Consult a health care practitioner prior to use if you are pregnant, breastfeeding, or if symptoms persist or worsen.