Aspirin
Aspirin 325 mg Regular Strength Tablets Medium Bottle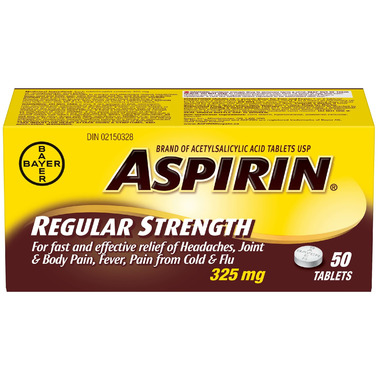 Aspirin
Aspirin 325 mg Regular Strength Tablets Medium Bottle
Description
Aspirin was invented over 120 years ago, and remains a trusted pain reliever on the shelf today. From well-known ASPIRIN Regular Strength to Aspirin Extra Strength and more, Aspirin comes in a variety of forms designed to help with different needs – headache, toothache and backaches plus muscle pains, menstrual and arthritis pain. For all kinds of aches and pains, Aspirin is an effective way to relieve pain so you can get back to your busy life. To be sure this product is right for you, always read and follow the label.

Directions: (Adults over 18 years) During a heart attack: Call 911, then, crush or chew 2 – Aspirin 81mg or Aspirin 81mg Quick Chews tablets or 1 – Aspirin Regular Strength 325mg tablet/caplet.

Ingredients: Acetylsalicylic Acid 325mg

Caution: Contains enough drug to seriously harm a child; Keep out of thei reach. Do not give to children/teenagers less than 18 years of age who have chicken pox or cold/flu symptoms before a doctor is consulted about Reye's Syndrome, a rare but serious illness reported to be associated with ASA.
Ingredients
Acetylsalicylic Acid 325mg
Shipping & Returns
Unfortunately, due to the nature of this item, we cannot accept any returns.
We are only able to ship this item to Canadian customers.
Click here for more information