ATTITUDE
ATTITUDE Nature+ Daily Shower Cleaner Eco Cleaner Citrus Zest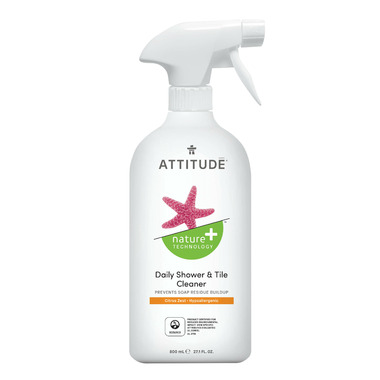 ATTITUDE
ATTITUDE Nature+ Daily Shower Cleaner Eco Cleaner Citrus Zest
800 mL
ATTITUDE Nature+ Daily Shower Cleaner Eco Cleaner Citrus Zest
is rated out of
5
by
25
.
---
Description
Buying this product plants a tree for a better tomorrow!
Spray it daily on the wet surfaces of the shower, and ATTITUDE Daily Shower Eco-Cleaner will do all the work for you! Without threatening aquatic ecosystems, you'll obtain a sparkling clean shower. After all, why scrub when you can simply enjoy life?
Features:
Buying this product plants a tree for a better tomorrow!

Free of carcinogen ingredients and by products (IARC group 1 & 2)
Free of 1,4-dioxane and ethylene oxide, tested by independent laboratory
Certified eco-friendly by EcoLogo, the most recognized certification in North America
CO2 neutral: no contribution to climate change
Vegetable-based and biodegradable (OECD 301)
Free of glycol ether
Fragrance derived from natural ingredients, hypoallergenic, respect IFRA (International Fragrance Association) standards
Fragrance without CMR (Carcinogens, Mutagens or toxic for Reproduction) compounds
Not tested on animal
Vegan product
Septic tank safe
Made in Canada
Ingredients:
Water, Caprylyl glucoside, Myristyl glucoside, Alcohol, Fragrance.
Highlights

Shipping & Returns
Rated

4

out of

5
by
erinlizbet
from
Great product but flaws in packaging
I'm on my second bottle of this product. I really love it because it's gentle and effective. The only problem I've encountered is that the spray nozzle on the new bottle I received didn't work at all (it looks like a different design from the previous one). I just switched out the nozzle with the old empty container and it works fine. No scum and cuts down on my cleaning time significantly.
Date published: 2021-02-10
Rated

5

out of

5
by
Megan G
from
Keeps tiles clean!
I had my shower re-tiled about five months ago and began using this after every shower. It keeps the tiles so clean and shiny! At the end of my shower I use the hand-shower to rinse down the walls, then when the water's off I spray this cleanser. So easy! Smells a bit when you first spray it but the scent doesn't last long and isn't unpleasant. At first I thought I would use it up too quickly, but the bottle has a fair amount of product. I am glad it is a non toxic, green product.
Date published: 2020-04-22
Rated

5

out of

5
by
A
from
Highly Recommend!
I decided to test out this product when Attitude had a sale going on, and I'm very glad I did. I'm not very fond of cleaning the bathtub (who is?? lol), but at the same time really enjoy a very clean bathtub and shower. It's only been a few weeks now, and we don't use it every time we shower (maybe every 2-3 times), but it really makes a difference with how much we have to scrub when we give it a deep clean. Especially for the cost, I plan to keep this stocked up! A few sprays is all that's needed, and it leaves the bathroom smelling delightful.
Date published: 2021-12-20
Rated

5

out of

5
by
Shmoo
from
Great Product
I have been using this product for several years now. I was so glad to find it, but a bit pessimistic about how well it would work. As I mentioned it's been years now that I'm using this product and that's because it works really well. It helps to keep me form having to clean the shower weekly, and when I do get to it, I find it's easy enough to clean. I personally have suggested this product to family and friends who have glass enclosed, tiled showers and everyone has been satisfied so far. I think this product is definitely worth trying.
Date published: 2023-04-20
Rated

5

out of

5
by
Andra
from
Does the job for me
I find this does the job for me we have a portable type shower stall in our basement that can be difficult to keep clean being a plastic surround but this does the job , not harsh, or abrasive, which other products had ruined a previous unit, nice smell so I am happy so far , did use method also but thought to try this brand .
Date published: 2021-01-29
Rated

4

out of

5
by
Shmoo
from
Good Product
I have been using this product for our shower after showering. I have to say that I am very pleased with the results. I have found when it comes time to clean the shower it isn't near as dirty as before, and the glass shower walls, and tiled walls look good after drying. I would recommend trying this product.
Date published: 2021-03-28
Rated

5

out of

5
by
Laura
from
Love Love Love!
I absolutely love this product! Really helps to prevent water stains from building up on glass shower doors! Also has a nice light scent and you don't feel as though you are inhaling toxic chemicals! I have tried other daily shower sprays and this is by far my favourite one!
Date published: 2020-06-15
Rated

4

out of

5
by
JS
from
Been using this shower cleaner daily for the past couple of months and so far I haven't seen too much build up on the walls & tiles so I think it's been helping! Smell is not overwhelming and it's good to know this product is gentle on my home as well as the environment.
Date published: 2022-02-17