Aveeno
Aveeno Fresh Essentials Nourishing Moisturizer SPF 30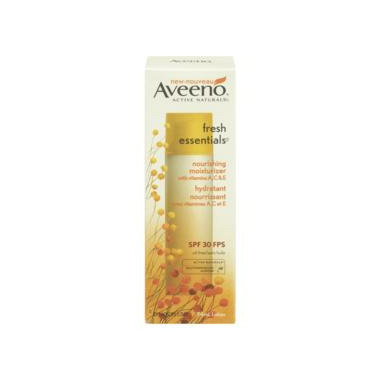 Aveeno
Aveeno Fresh Essentials Nourishing Moisturizer SPF 30
SPF 30
74 mL
Aveeno Fresh Essentials Nourishing Moisturizer SPF 30
is rated out of
5
by
52
.
---
Description
Sun exposure, diet and a hectic lifestyle can rob your skin of essential nourishment, resulting in noticeably dry, stressed skin. Formulated with ACTIVE NATURALS Southernwood extract, AVEENO
FRESH ESSENTIALS Nourishing Moisturizer with SPF 30 helps to keep moisture in and drying, environmental stress out. 97% of women showed an improvement in the look of stressed skin in just 2 weeks.
Keeps the good in:
• Lightweight formula enriched with anti-oxidants and vitamins is clinically proven to replenish moisture to dry, stressed skin
• Softens and smoothes skin with conditioning emollients
and the bad out:
• Strengthens skin's moisture barrier with an exclusive formula that contains ACTIVE NATURALS Southernwood Extract
• Helps protect skin from drying environmental stressors and the sun's harmful UVA/UVB rays
Additional product benefits: oil-free, hypoallergenic, non-comedogenic
Rated

4

out of

5
by
Ecnarfeiram14
from
Almost perfect
I have been using this moisturizer for a few months now and I am quite pleased with it. It smells good and the texture glides easily on the skin. Plus, the spf 30 protects my skin from the sun. However, it leaves my skin shiny, greasy and oily. Luckily, it doesn't make my combination and acne prone skin break out. But, when i blot my face with oil blotting sheets, my skin feels divine and silky smooth and it looks refreshed afterwards. People even tell me I have baby skin thanks to this moisturizer! In short, one star less for the oily finish. Everything else is great.
Date published: 2014-11-16
Rated

5

out of

5
by
Jane
from
BEST SPF MOISTURIZER EVER!! 100% RECOMMEND
For the longest time, I have had about 15+ different moisturizers trying to look for the perfect one, and I found it with Aveeno's Fresh Essentials SPF 30. This is my first Aveeno product I have ever bought and I'm very impressed with this product! I have extremely dry skin and sometimes my nose will get flakey. I have never been so in love with a moisturizer until I found this product. It smells amazing.. has a beautiful floral scent. This SPF moisturizer does not clog my pores, does not leave a greasy/oily residue, and does not break me out. I love the dewy finish it gives on my face. It leaves me glowing without leaving an oily residue. It also very lightweight yet moisturizing and hydrating to those with dry skin like me. I will definitely 100% buy it again as soon as I run out.
Date published: 2018-06-04
Rated

4

out of

5
by
Mel1745
from
Great for your skin
I love that this product contains sunscreen within its daily moisturizer. It's great to wear under your foundation and it's light weight keeps your face feeling fresh. I also love the fact that aveeno doesn't use parabens in its products
Date published: 2014-08-01
Rated

3

out of

5
by
l8
from
Quite good but..
I have very sensitive, red skin. I find after using this particular product it does bring redness to my cheeks. It has a pleasant smell and does make my skin seemingly softer as I do use this moisturizer and the skin brightening scrub and together I find them wonderful. I do not use this moisturizer in the morning before I leave the house because as I mentioned it does leave my cheeks to be quite red but I do use those two products together every night and love the way my skin feels in the morning!
Date published: 2014-06-15
Rated

5

out of

5
by
Cass
from
Great Daytime Moisturizer
I have been using Aveeno daytime moisturizers with SPF since my teens (past 10 years) and particularly the Fresh Essentials daily moisturizer for the past 2 years. I love that this product offers a fairly high SPF of 30 but doesn't smell or feel like sunscreen. It's a key part of the collection that feels and smells great.
Date published: 2016-04-04
Rated

1

out of

5
by
Anonymous
from
Be sure you test it on your inner forearm before applying on your face with this product.
I got serious reaction from this product soon after I applied on my face. Swollen,redness,itchiness on my entire face that I had to take a day off from work. I was very mad of myself being so careless . Wondering if anyone else had same reaction.
Date published: 2018-02-03
Rated

4

out of

5
by
Glogirl
from
Great Moisturizer!
First off, I love the packaging of this product. Being a pump it makes it easy to dispense the right amount of moisturizer and I feel it is a cleaner way of dispensing the product compared to products that are in a jar. The scent is very pleasant and not overpowering. I have very acne prone skin and this product did not break me out which is a huge bonus! My skin is also oily and this moisturizer was fine for my skin, it didn't make me any oilier than usual. Overall, a great moisturizer.
Date published: 2017-04-06
Rated

5

out of

5
by
Janice20
from
This product feels great on my skin.
I love this product. It doesn't break out my acne prone skin and feels nice and light. Bonus it has 30 SPF. Will be using this moisturizer from now on!
Date published: 2017-01-05