Aveeno
Aveeno Moisturizing Bar for Dry Skin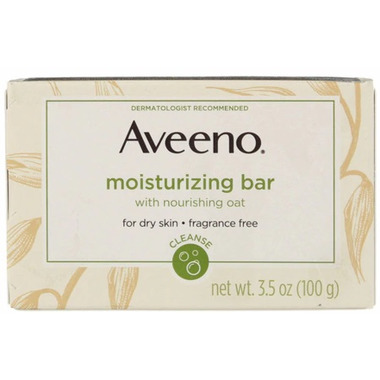 Aveeno
Aveeno Moisturizing Bar for Dry Skin
100 g
Aveeno Moisturizing Bar for Dry Skin
is rated out of
5
by
13
.
---
Description
For dry skin, this mild bar contains natural oatmeal to cleanse and gently exfoliate your skin. The unique soap-free formula blends powder-fine oatmeal, natures own gentle cleanser, with a skin-softening moisturizer.

Additional Product Benefits Include: soap-free, hypoallergenic, noncomedogenic
Rated

5

out of

5
by
Linda
from
best skin cleaner
This bar has been my favourite cleanser for 40 years! It is gentle, effective and long lasting. And very affordable.
Date published: 2016-04-03
Rated

5

out of

5
by
Watchmeplz
from
Only thing that would help my acne
When I was young, I used everything. I mean EVERYTHING! Accutane, Proactive, even doctor prescribed face washes. Nothing would work, until I used this. Funny how that is?! Try it constantly for awhile before you decide.
Date published: 2015-12-31
Rated

5

out of

5
by
marriedgirl
from
great soap
This soap stays solid in the shower and is ready for the next use. It has little bits of oatmeal which gently slough of dead skin each time it is used. It cleans the skin well too.
Date published: 2016-02-27
Rated

5

out of

5
by
SarahViolet
from
Love this bar!
I use this every shower, if you've spend 100 of dollars on trying to get your cracked feet uncracked you need to try this!!! This product is a game changer for those cracked feet, use every shower Scrub feet with it , ull feel the difference after first few uses on those dry cracked feet!!
Date published: 2021-01-19
Rated

5

out of

5
by
Krissy
from
This bar of soap leaves my skin feeling soft and clean
I just recently tried Aveeno products all I can say is wow I absolutely Love everything I have tried. I have had very sensitive skin all my live I was using baby products but my skin was still reacting to they products until just recently I decided to give Aveeno a try it was the fragrance free body wash and the fragrance free moisturizing bar of soap wow my skin absolutely Love it so very soft and clean feeling. Then I bought the bath and shower oil and oh my goodness way better then baby oil ! Then I tried the fragrance free body lotion and I am now an Aveeno Freak I absolutely Love the products and so does my sensitive skin ! Just bought the Aveeno cream for cracked skin used it on my feet well let's just say my sore cracked feet are not sore anymore Love it. Went and bought the hand & foot mask today and just used them both and they are absolutely Amazing just how soft my feet and hands are. I am a freak for Aveeno products I absolutely Love everything I have tried and so does my sensitive skin. Thank You Aveeno for Creating such an Amazing line of Products ! I am a freak for Aveeno Products !
Date published: 2019-04-27
Rated

4

out of

5
by
cfs1965
from
Excellent Product
This soap is amazing, makes my skin soft & smooth. Also does not leave a heavy film.
Date published: 2014-12-24
Rated

5

out of

5
by
Alex
from
Helped my eczema
All soaps made my eczema flare up! This is the only soap free alternative I have found and it doesn't lead to eczema flares!
Date published: 2018-10-31
Rated

1

out of

5
by
Van
from
Not worth it.
This was not worth it for me. Reviews say it is creamy and rich but mine hardly lathers at all. I much prefer the shower gel by Aveeno for my dry skin.
Date published: 2020-02-05