Aveeno
Aveeno Skin Relief Moisturizing Lotion Bottle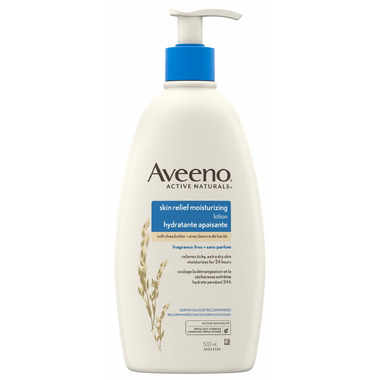 Aveeno
Aveeno Skin Relief Moisturizing Lotion Bottle
Fragrance Free
532 mL
Aveeno Skin Relief Moisturizing Lotion Bottle
is rated out of
5
by
254
.
---
Description
Aveeno Skin Relief Moisturizing Lotion (Fragrance Free) revives extra-dry skin with soothing moisture. Use this nourishing, fast-absorbing lotion to immediately hydrate and provide relief to itchy, extra-dry skin. ACTIVE Naturals Triple Oat Formula plus shea butter restores essential moisture back into skin for a full 24 hours, to provide lasting protection from skin dehydration.
Features:

Moisturizes for 24 hours
Starts working immediately to soothe itchy, dry skin
Contains ACTIVE Naturals Triple Oat formula with shea butte
Fragrance-free
Suitable for sensitive skin
Directions for Use: Apply liberally as often as needed.
Ingredients: Water (eau), Glycerin, Distearyldimonium Chloride, Petrolatum, Isopropyl Palmitate, Cetyl Alcohol, Dimethicone, Avena Sativa (Oat) Kernel Flour, Sodium Chloride, Avena Sativa (Oat) Kernel Oil, Steareth-20, Butyrospermum Parkii (Shea) Butter, Benzyl Alcohol, Avena Sativa (Oat) Kernel Extract, Potassium Sorbate. Made with Canadian oats.

Rated

5

out of

5
by
Sal
from
Miracle
My right hand had been through skin dryness and the skin became distorted from number of places around fingers, thumb even so that my colleges were noticing skin distortion. I consulted physicians, dermatologist and tried their prescriptions but all in vain. In addition I've tried whatever was available off the shelf. Once I found this SKIN RELIEF lotion from AVEENO in a grocery store to give it a chance and that was my lucky moment. Now even my wife couldn't believe the results and my hand is all back to normal. At the end: May Allah give Aveeno best in its business.
Date published: 2014-12-10
Rated

3

out of

5
by
KatBC
from
Great Moistruizer But...
At first I thought it was a great moisturizer that has no scent, easy to apply, does not leave greasy film on skin after application, and keeps skin well hydrated for a long period of time. But I noticed that I started to get small breakouts after using this. Perhaps it's just my skin, since I don't find anything particularly wrong with this product in terms of its texture, how it feels during, and after application. I use mostly Aveeno products on my skin & hair, and haven't had any problems with other Aveeno products that I've used, just this one. I do recommend it for those that don't end up breaking out.
Date published: 2016-09-19
Rated

5

out of

5
by
AnnP
from
LOVE IT
I love this product. I use it several times a day on my hands and also my face. There is no smell that I can smell, and smells bother me alot that is why I tried this product. You can put this product on your hands and then put on Purell, a hand sanitizer, over top of it and there is no issues with using either. So you can use your moisturizing lotion on your hand and then once it has absorbed in, you can use your hand sanitizer! Wonderful!! Have bought both the pump and the small squeeze on for my purse. Would definitely recommend this product!
Date published: 2015-04-26
Rated

5

out of

5
by
Kate77
from
This product is amazing!
This is the absolute best product for my dry skin. I have never found a better product for my skin. It's incredibly moisturizing and doesn't leave a greasy feel. Leaves skin feeling soft and moisturized for hours. Thanks Aveeno!
Date published: 2014-07-01
Rated

5

out of

5
by
Anglewings
from
Stops dryness and Itch
I love all Aveeno products but Aveeno Skin Relief Moisturizing Lotion is one of my favorite products to use.It is so good for my dry skin to give it that moisture it needs so bad and,when my skin gets too dry,it starts to itch and when I scratch my hands they turn red.Aveeno stops the itching on contact which is a big relief for me.I have been using this for quite some time now,it isn't that expensive to purchase and to me,it is worth every penny.I love that it is scent free and that it is a deep moisturizer that takes care of the dry itchy feeling.I would recommend this product.
Date published: 2016-02-27
Rated

4

out of

5
by
bethanito
from
Great for sensitive and/or extra dry skin
This product is great for sensitive skin, considering with most lotions I break out in a rash. While most Aveeno products are gentle on sensitive skin, what separates this product is that it is fragrance free, which is the primary thing that often bothers people with skin or smell sensitivities. Even if you do not have sensitive skin, this product is wonderful for someone with extra dry skin; after only a few applications, I've had thick, dry skin reduce significantly, and over a period of time, disappear completely. A great product for multiple skin types!
Date published: 2014-10-09
Rated

5

out of

5
by
Gabrielle
from
Calme les irritations
Soulage la peau sèche et les irritations. Je l'utilise tout les jours et j'ai vu une belle amélioration de ma peau et elle est même efficace sur l'eczema. Idéal! Ne laisse pas de fini gras ou collant sur la peau.
Date published: 2016-03-14
Rated

5

out of

5
by
Amyb
from
This is the best moisturizer I have ever used!!
I have extremely dry itchy and flaky skin. I have tried everything I could think of to get relief. Since using Aveeno what a difference!! I use the lotion once every 24 hours and it's made all the difference!!
Date published: 2020-03-02