Aveeno
Aveeno Soothing Bath Treatment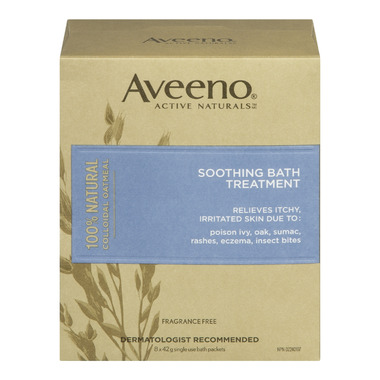 Aveeno
Aveeno Soothing Bath Treatment
8 x 42 g
Aveeno Soothing Bath Treatment
is rated out of
5
by
345
.
---
Description
For itchy, irritated skin, Aveeno Soothing Bath Treatment is made of 100% pure natural colloidal oatmeal — an ingredient long recognized for its ability to relieve itching.
AVEENO® mills this oatmeal into an ultra-fine powder. When dispersed in water, this powder forms a soothing milky bath that works as a natural cleanser to provide temporary skin protection and relieves irritation and itching due to poison ivy/oak/sumac, rashes, insect bites, and eczema.

It also soothes prickly heat, chicken pox, hives or sunburn. And, it's even gentle enough for sensitive skin. 100% natural colloidal oatmeal, which is known for its soothing properties and ability to hold in moisture, has been finely milled to retain its natural integrity and purity to deliver soothing skin relief.

Additional Product Benefits Include: Skin protectant, fragrance free, soap free.
Rated

5

out of

5
by
thediva777
from
All Purpose Skin Soother
I was allergic to almost everything as a child and the rashes and allergic reactions ranged from having perfume sprayed on me to different lotions, hygiene products, some food allergies and dust allergies. When I would break out in a rash from a diaper lotion, mom would put me in a bath of Colloidal Oatmeal. When I had an allergic reaction to perfume, colloidal oatmeal. When I had chicken pox, colloidal oatmeal. It works for all of those things and more. I've recommended it to many parents I know. One thing to note: It is VERY SLIPPERY when it gets wet. Be very careful getting into and out of the tub when you have this in the water.
Date published: 2012-03-07
Rated

5

out of

5
by
Kitten17
from
I love the feel of this product on my skin
I had severe sun rash! I researched google sun rash treatment and found Aveeno Soothing Bath treatment for irritant skin and rashes. I can honestly say that this product is working after four soaks and that my sun rash has disappeared ! I continue to soak for 30 minutes to be sure it does not come back. I did not have to take any prescribed pills of any kind which makes me very pleased indeed. I also purchased the Aveeno Baby Eczema Therapy moisturizing cream to use afterwards as a protectant barrier. Both these products are amazing for any type of skin rash. A real miracle product.
Date published: 2015-09-30
Rated

5

out of

5
by
J Wilson
from
THIS DOES WONDERS FOR POISON IVY/OAK/SUMAC!!!
WOW! This product literally worked a miracle on my body. Listen; I had poison ivy for a week and half that covered both of my entire legs and both of my forearms. The treatments that my doctor recommended (calamine lotion & Iverest) I used religiously for a week and it wasn't helping at all. I decided to give this product a try and it was such a relief! After only 1 single bath soak my poison ivy was already clearing up with visible results. After 2 bath soaks it was 50% better. I 100% hands down will recommend this product to anyone looking to cure poison ivy/oak/suamc, chicken pox, or just plain irritated skin rash before any other products. THANK YOU AVEENO!
Date published: 2020-05-10
Rated

5

out of

5
by
Anonymous
from
Aveeno Soothing Bath treatment was a lifesaver!
The backyard at our new house was covered in poison ivy, I didn't have a clue. My Husband, myself and all 4 of our kids had terrible reactions. I went to the pediatrician several times, you know how hard it is to keep kids, 14,10,4, 1 from itching? OMG let me tell you when my Mom suggested the bath treatment I was skeptical, but ready to try anything. It helped sooooo much! The reaction ran its course but I'm so glad I used Aveeno soothing Bath Treatment, it helped us all so much. Thank you Aveeno for such a great product! Off subject a tiny bit im a fair skinned red head who's super excited to try the Positively Radient line for myself.
Date published: 2014-01-24
Rated

5

out of

5
by
GratefulMama
from
Eased my daughter's poison ivy symptoms quickly.
My 6 yr old daughter got poison ivy during a camping trip. When we called her pediatrician to get their recommendation for way(s) to make her more comfortable, Aveeno baths were among the suggested treatments. She soaked for 20 minutes, as directed, and about half way through the very first soak she started telling me that it was feeling better. The Aveeno bath quickly alleviated the worst of her symptoms and helped her finally able to get a good night's sleep - that firstSt night and for the remainder of the nights we dealt w/ the rash. Many thanks from a grateful mama.
Date published: 2014-06-08
Rated

5

out of

5
by
Anonymous
from
Immediate Relief
I came home from a camping trip with about 80 mosquito bites all over my body from my face down to my feet. At the suggestion of a friend, I picked up the Aveeno Soothing Bath Treatment and gave it a chance. After my first 20 minute soak (in very hot water with 1 packet), I had immediate relief. Not even maximum strength hydrocortisone cream could curb my itching but this product did the trick. I used it before going to bed and didn't wake up once during the night. I again used it before coming into work today and not a single itch. I have also noticed that the redness and swelling have gone down significantly and that overall, my skin feels well nourished and hydrated. I plan to keep using it until the bites have healed. Excellent product!
Date published: 2016-09-13
Rated

5

out of

5
by
Lorrie
from
Helped so much!!
I had to go on augmentin for tonsillitis .. a few days after i was done with the antibiotic i broke out with a terrible red itchy rash. Turns out i am allergic to the meds. Went back to the dr and he put me on steroids...was on them a few days and my rash was still getting worse. So i bought the oatmeal bath and within hours of using it noticed a lot of the swelling and redness have gone down. I just bought the aveeno 24 hour itch relief lotion..i hope it works as good. I will defiantly being buying more Aveeno products!!!
Date published: 2014-05-29
Rated

5

out of

5
by
Tattooabby
from
Life changing
My face is very sensitive and red. Recently became itchy and flakey to the point where I was going nuts. It was so uncomfortable. I wanted something that would help but be all natural. You know how it is the more ingredients the higher the risk of reaction and making it worse. So I bought this and instead of using in the tub I just mixed a small amount with water into a face mask. Left it on for 10 minutes then rinsed off. The relief! So wonderful, almost instantly and lasting. I plan to repeat once a week.
Date published: 2018-10-28