B Yoga B MAT Strong Deep Blue
B Yoga B MAT Strong Deep Blue
is rated out of
5
by
3
.

B MAT Strong from B Yoga offers superior cushioning for the yogi looking for more comfort and support. B MAT Strong from B Yoga is perfect for those with a higher impact practice, such as Vinyasa, or for those who simply value extra comfort and cushioning during Savasana, Yin or other practices.
Weight: 5.0lbs
About B Yoga Mats:
100% rubber (both natural and synthetic)
100% azodicarbonamide free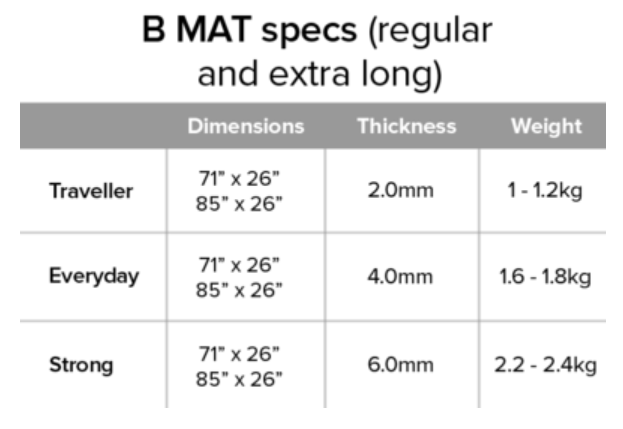 Mat Cleaning:
The best way to clean your B MAT is by wiping the surface on a regular basis with plain water and neutral soap. You could also whip up a cleaning solution with enzymatic action by mixing half water and half vinegar or lemon juice. This produces a gentle cleaner that is great on a B MAT surface.
If you feel like giving your mat a deep clean you can soak it in a bath tub, hose it down, or wash it in a washing machine set to the gentle cycle, max 30 degree water, with a mild soap (warning: saturation of the mat material can contribute to a degradation of the printed B Yoga logo).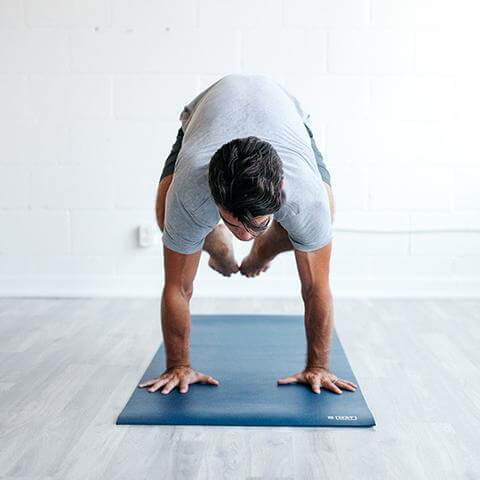 Rated

5

out of

5
by
Anna
from
Awesome, Sustainable Yoga Mat
The B Mat Strong is a wonderful yoga mat! I mostly chose this mat because of the sustainability aspects of it - made of natural rubber, no plastic!! And I love that B Mat is a Canadian company and the mats are made in Spain - I can get behind that! However, the quality of the mat is also excellent. It's super grippy, doesn't slide around on the floor, and I don't slip around on it. It feels weighty and solid, and even unrolls almost completely flat when brand new out of the package. It is nicely cushioned, but I am certainly glad that I chose the 6mm Strong mat, and not the 4mm Everyday mat. I use the mat on a hard floor, and I still feel a bit of discomfort in my hips during some exercises when I'm lying on my side (e.g. pilates side leg lifts). That being said, this is still a huge step up from the generic foam mat that I was using for 10+ years. I can't believe I didn't upgrade sooner. If you exercise on a hard floor (laminate, hardwood, etc.) like I do, I would personally recommend the 6mm Strong mat. There is a smell to this mat at first, a sort of fishy smell - but it's natural rubber, so that's totally expected! However, I only noticed the smell in my exercise room for about 24 hours. After that, I could detect the smell if I was close to the mat, for about 3 more days. Now I don't notice anything at all. The smell dissipates pretty quickly. My only quibble about the B Mat, and it is minor - I don't like the colours. I prefer darker colours for yoga mats, especially blues and greens. However, I really didn't like any of the greens that B Mat offers, and the Deep Blue was the closest to a colour I would like. It's just ok, a bit muddy and blah to me. I wish B Mat would produce a mat in an olive green shade, or a more interesting blue. Again, the aesthetic is a super minor concern. I highly recommend this mat, and I'll never go back to environmentally-unfriendly plastic foam mats!
Date published: 2020-10-02
Rated

5

out of

5
by
Christine
from
Great mat, wish I had purchased sooner
I was a bit hesitant to get an expensive yoga mat however my only regret is not getting it sooner. I'm just a casual yogi, so I wasn't sure I needed to upgrade but it was totally worth it. The blue colour here is beautiful and it's thick and comfy. Yoga is much easier with a grippy mat, I didn't think it could make such a difference but it does.
Date published: 2021-01-14
Rated

3

out of

5
by
laurence
from
Strong off gasing smell
We just received this mat yesterday and we had to put it outside since it was smelling so strong. Still smells of rubber but I am disappointed of that smell for the cost of the mat.
Date published: 2020-05-05