BabyBjorn
BabyBjorn Baby Carrier Original Black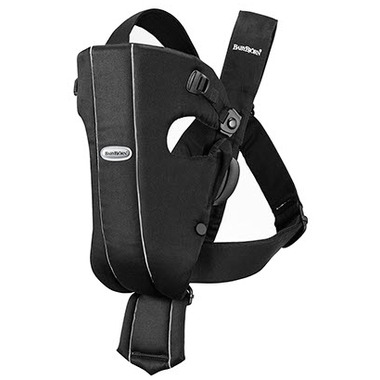 BabyBjorn
BabyBjorn Baby Carrier Original Black
Description
BabyBjorn Baby Carrier Original is a small and easy-to-use baby carrier that is a perfect fit for your newborn baby. It fits parents securely and comfortably with only a few adjustments. The baby carrier is easy for you to put on and take off by yourself, which means you can use it at night too if you choose. The smart safety click lets you know you've done it right! Thanks to the colored buckles and the smart safety click, it's not possible to fasten the baby carrier incorrectly. The two-part design allows you to lift your sleeping baby out without waking them. Just unfasten both side latches to open the front completely.
Baby Carrier Original allows you and your baby to enjoy each other's closeness and to get to know each other. Your newborn baby is soothed and reassured by the warmth of your body and the sound of your heart and voice. And as a parent, you learn to recognize and understand your baby's needs. This creates the emotional bond that is so essential for your baby's development and for your ongoing relationship.
Features:
Easy-to-use classic design - Fits parents securely and comfortably with only a few adjustments.
Provides closeness and contact - Physical closeness and eye contact promote bonding between you and your baby
Perfect for your newborn baby- Specially developed to give the proper support for the baby's head, neck, spine and hips
Fabric: 100% soft cotton - meaning it will always be comfy against your baby's skin
Baby Carrier Original is specially designed in collaboration with pediatricians to fit your baby from birth – you don't need any extra insert or pillow
Tested and Safe:
All fabrics in Baby Carrier Original are kind to your baby's delicate skin and completely harmless to taste. They are approved in accordance with Oeko-Tex Standard 100, class 1 for baby products, which guarantees that they are free from harmful and allergenic substances. Baby Carrier Original also meets both European and American safety standards.

Additional Views Shown In Different Colours:

This product is excluded from any special promotions or coupons.