BabyBjorn Play Yard Light Silver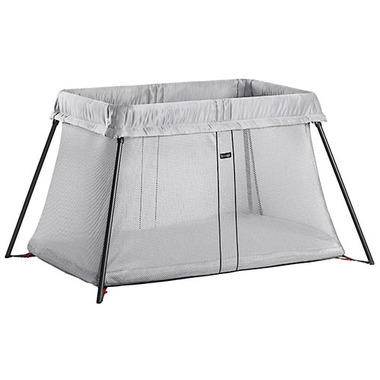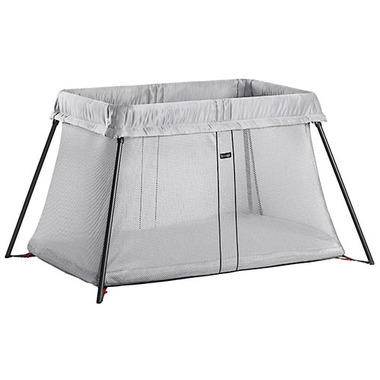 BabyBjorn Play Yard Light Silver
The BabyBjorn Travel Crib Light is the perfect crib to take with you on trips. It weighs only 11 pounds (5 kg) and is set up in one simple movement. It comes with a case that is as handy as an ordinary bag. Sleeping away from home with small children has never been easier!
Suitable for ages newborn and up to approximately to the age of three.
Features:
Made from 100% polyester
Measurement when assembled: 82 x 112 x 64 cm / 32 x 44 x 25 inches
Sturdy design: comes with a mattress that has a built-in base, which keeps the crib standing firmly
Both the mattress cover and crib are removable and can be machine-washed in hot water (60 degrees Celcius), do not tumble dry
Travel Crib's outer shell is also machine washable in warm water (40 degrees Celsius), do not tumble dry​
Tested and Safe:
The textiles closest to the child have been tested and approved in accordance with Oeko-Tex Standard 100, class 1 for baby products. They are guaranteed harmless to children's sensitive skin and will not trigger allergies.
Easy To Take Along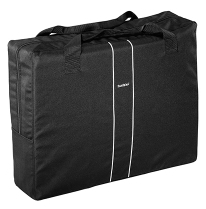 Simple Set Up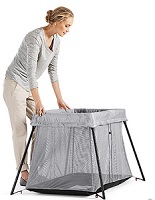 We're sorry! This item does not qualify for free samples.
Alyssa:
more than a year ago
Terrific product. I didn't think I needed one, as I already had a boxy PackNPlay, but the ease of setup makes this travel crib completely worth it! The mechanism in the legs is very sturdy and extremely fast to pop together. The crib is quite lightweight and the carrying case easy to transport (like a large briefcase). The design is elegant and simple. I've come to appreciate various BabyBjorn products from this crib to the bouncer to the carrier, and I keep being surprised at how useful and well-designed each one is compared to similar items by other brands. Worth the cost, even for a bargain-hunter like me!
Page
1