Babymoov Turbo Pure Sterilizer Dryer
Did you know that your baby's immune system and intestinal flora begin to develop at the age of 6 months? Before this, your little one is highly vulnerable to bacteria that can be found pretty much everywhere in your kitchen. BABYMOOV and its co-creator parents have stepped in to provide you with the perfect solution! The turbo pure sterilized and dries baby bottles and accessories, and stores them in a purified environment.
All in a natural, easy way! Sterilizes right to the heart of the bottle: The turbo pure uses patented, innovative technology. It sterilizes right into the centre of baby bottles in just 8 minutes. The steam emitted by the turbo pure is at 95 DegreeC to eliminate even the most resistant bacteria (99.9%), And destroys stubborn odours and calcium build-ups from milk. This steam is natural. It contains no chemicals.
You can add up to 6 baby bottles as well as a breast pump, teats and other accessories compatible with sterilization. Purified sterilization: this sterilizer is equipped with a unique 'pure drying' Function (30, 45 or 60 mins). the hot air forced deep into the bottle is purified from bacteria, dust mites and other allergens via an HEPA filter. This is the safest, most hygienic way to dry your baby bottles, teats and other accessories after sterilization. Any humidity and pollutants contained in the air are eliminated (99%). your baby bottles are ready to use and retain all the benefits of sterilization. The turbo pure comes Supplied with a spare filter. No need to think about it for a year.
Storage within a hygienic environment: your baby bottles and accessories can be stored within the hygienic environment of the turbo pure for 24 hours (no risk of humidity or external pollutants). the LCD screen with tactile buttons is very intuitive. The 'all-in-one' Allows you to run The complete cycle in just 38 minutes. The turbo pure guarantees your baby bottles are completely hygienic in an ultra-purified environment!.
Features:
Baby bottles are completely hygienic in an ultra-purified environment
Sterilizes in 8 minutes, eliminating even the most resistant bacteria (99%), and attacks unpleasant odours and calcium build-ups from milk
Purifying 'Pure Drying' function to protect bottles from humidity and eliminate 99% of airborne pollutants such as dust mites, allergens, certain viruses and mould.
3 drying cycles in a purified environment: 30, 45 or 60 mins - this will depend on amount drying at once and time allowance.
Practical storage unit within a purified environment for 24 hours
Universal with removable steam arms for baby bottles, breast pumps, tableware, plastic toys etc
Easy to use with an 'all-in-one' cycle, or manual function selection
Includes 2 HEPA filters (to be changed every 6 months)
Limescale build-up alert
Automatic cut-off
LCD control screen with tactile buttons
Guaranteed BPA-free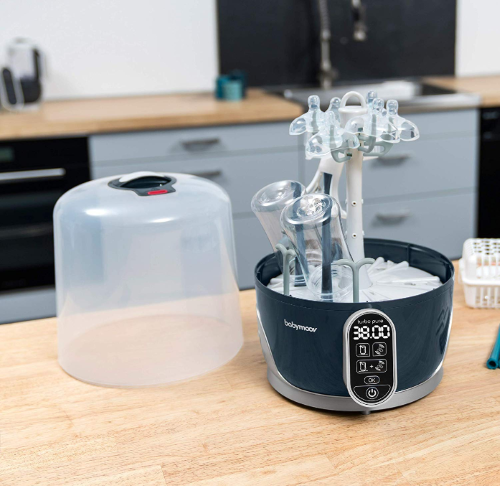 Filter sold separately:

Babymoov Replacement Hepa Filter for Turbo Pure Sterilizer & Dryer