Bach
Bach Rescue Night Spray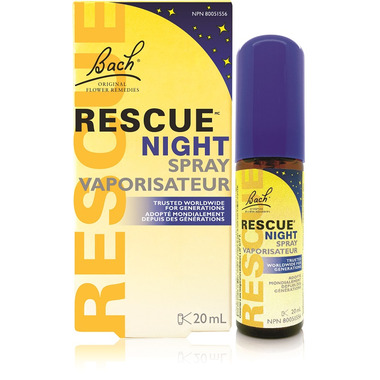 Bach
Bach Rescue Night Spray
Natural Sleep Aid
20 mL
Bach Rescue Night Spray
is rated out of
5
by
37
.
---
Description
Bach Rescue Night Liquid Melts are a non-narcotic and non-habit forming. Rescue Night calms repetitive thoughts and allows you to fall asleep naturally, and wake refreshed.
Features:

Natural Sleep AidStar of Bethlehem: For trauma and shock.
Clematis: For the tendency to "pass out", and unconsciousness, being 'far away' and not present mentally.
Cherry Plum: Fear of mind giving way, verge of breakdown, anger.
Impatiens: For irritability, tension and fidgety.
Rock Rose: For frozen terror and panic.
Rescue Remedy helps us relax, get focused and get the needed calmness.
Directions: Rescue Remedy can also be taken just before going to bed to calm a troubled mind.
Medicinal Ingredients –Each capsule contains: Helianthemum nummularium (Rock rose) (flower) 5X, Clematis vitalba (Clematis) (flower) 5X, Impatiens glandulifera (Impatiens) (flower) 5X, Prunus cerasifera (Cherry plum) (flowering twigs) 5X, Ornithogalum umbellatum (Star of Bethlehem) (flowering clusters) 5X, Aesculus hippocastanum (White chestnut) (buds and twigs) 5X.
Non-medicinal Ingredient
–Ethanol 27% (v/v), water." We are only able to ship this item to Canadian customers.
Highlights

Shipping & Returns
Rated

5

out of

5
by
Janet
from
I have suffered from sleep maintenance insomnia since I was a teenager (no problem falling asleep but unable to maintain it through the night). I have spent many desperate early morning hours trying to get back to sleep. I have the Rescue Remedy drops, which I use for anxiety so I decided to give the Rescue Sleep a try. This works for me, not so well the first few times but now, I like to know it is right there beside my bed and I take it with me when I travel. When I wake up between the hours of 2 am and 5 am, I know that one or two sprays of Rescue Sleep into the back of my throat and I will be back to sleep within 15-20 min. The taste is not the best but it's not awful either. I never feel groggy the next morning.
Date published: 2014-03-02
Rated

5

out of

5
by
Louise
from
It actually works....!!! I have used every pharmacy product and prescription out there for my poor sleeping - and this was just another one of the many I would try. And it worked! My excitement is with the fact that I don`t have to drug myself to get some ``sleep`` (sleeping pill hangover is the worst). A couple of sprays of the rescue sleep when I get into bed, and another couple if I need it, later in the night. Waking up refreshed and that I actually had real sleep.
Date published: 2012-05-06
Rated

5

out of

5
by
Laurinda
from
Love it ...it helps...to relax the head from thoughts..I use to fall asleep by thinking of what I have to do ...doing projects in my head....Really not very relaxing..it was like I worked all night !..But with this little bottle I have found it impossible to do projects in my head..during the night...Much more rested..in the morning..ready to attack those projects for REAL...8) !
Date published: 2012-03-22
Rated

4

out of

5
by
Jory
from
Initially I admit I didn't think this product did assist me to fall asleep. I went into trying the product as being VERY hopeful, and a strong believer that it would work, due to many great reviews. (Also, we use the rescue remedy pastilles, and know these to be quite calming.) Much to my chagrin, initially, I didn't think the sleep spray worked well, However, it is doing something after all, because in time, I realized if I awaken very early morning, 4 am or 5 am (and can still have 3 or 4 hours in bed) - when I take it, I do seem to conk out more quickly, and not only that, my dreams appear much more vivid. I just ordered my second big bottle, as even though it goes a long way, I don't want to run out. I think it does help to calm the mind, which makes sleep easier to come by. This is applicable at night time as well, the calming thoughts, which does assist somewhat, I think. Overall, I rated this a 4 because it has definite, noticeable merit.
Date published: 2014-02-20
Rated

4

out of

5
by
Judi
from
I heard about this product so decided to try it for myself. Although not a miracle drug, it has definitely improved my sleep habits. I still have the odd encounter with insomnia, but a vast vast difference from what my sleep patterns were prior to using this product. I do highly recommend it.
Date published: 2014-03-11
Rated

4

out of

5
by
Char
from
I've had success with this product. Normally on sleepless nights I am up until about 3am and with this spray I am usually able to fall asleep within 10 or 20min--it's not every night I have those results but the spray has drastically improved my ability to get to sleep (and nice to be able to get to sleep without sleeping pills).
Date published: 2013-12-26
Rated

5

out of

5
by
Marlene
from
I ordered this product for my 84 year old Mom who started experiencing anxiety attacks a few years ago...she says it helps her fall asleep and stay calm. She calls it a godsend and it is what keeps her from going to the emergency on a regular basis. They have been unable to do anything for her condition.
Date published: 2016-03-21
Rated

4

out of

5
by
Karen
from
Not sure if this one works for me. Perhaps I'm not taking it right. Used the Liquid Melts, but they taste like fish so I'm trying the spray. Everyone seems to have good results. It does tend to take about 30 mins. to work. So I'm going to take it about 30 mins before bed and when I wake in the night.
Date published: 2016-04-12