Bach
Bach Rescue Pastilles Original Flavour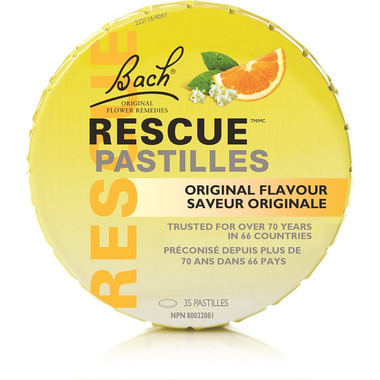 Bach
Bach Rescue Pastilles Original Flavour
35 Count
Bach Rescue Pastilles Original Flavour
is rated out of
5
by
33
.
---
Description
Rescue Pastilles are ideal for coping with exam stress, driving tests, first day of school nerves, job interviews and high pressure environments. The funky tin with an easy "press on the lid" opening and closing mechanism. It is easy to take anywhere and with natural flavoring safe for use by the whole family.

Features:

Trusted to help you stay calm, cool, and collected wherever stress finds you.
Trusted Worldwide for Generations
Alcohol-free and sugar-free formulation made with xylitol for oral health
Developed by Dr. Edward Bach, the originator of Bach Original Flower Remedies
From Nelsons, the trusted name in natural medicine for over 150 years
Directions: Chew one pastille as required.

Active Ingredients: 5x of combined Rock Rose (Helianthemum nummularium HPUS ), Clematis (Clematis vitalba HPUS), Impatiens (Impatiens glandulifera HPUS), Cherry Plum (Prunus cerasifera HPUS), Star of Bethlehem (Ornithogalum umbellatum HPUS).

Inactive Ingredients (Black Currant): Sugar substitute (sorbitol, isomalt), gelling agent (gum arabic), natural flavor (blackcurrant), citric acid, natural colors (extract of red cabbage, elder, black carrot), sweetener (xylitol), vegetable oil, glazing agent (vegetable oil, beeswax)

Caution: Keep out of reach of children. If pregnant or breastfeeding, ask a health professional before use. Excessive consumption may induce mildly laxative effects. May contain traces of gluten. Not recommended for pets.
We are only able to ship this item to Canadian customers.
Highlights

Shipping & Returns
Rated

4

out of

5
by
Jory
from
I have GOT to add that this product due to the artificial sweeteners is NOT safe for dogs/pets!! Some people do give rescue remedy to their dogs for seizures, to help calm, BUT THIS IS NOT the one that is for pets. NO FOR PETS!! It ever says so on the label. Do your homework and research before using this product; it is pleasant for humans but could be deadly for dogs, so make sure you keep them stored safely away from pets.
Date published: 2011-08-22
Rated

5

out of

5
by
Niki
from
Very helpful. Nice change to have the lozenge. Have used the drops for decades. Keep a container in the car and purse. Great before a visit with my mother! :-)
Date published: 2019-01-13
Rated

4

out of

5
by
Sonia
from
I use them when stressed out or having trouble sleeping and have noticed a difference. Not a huge fan of the artificial sweeteners in in though.
Date published: 2014-08-18
Rated

2

out of

5
by
Andrea
from
Pleasant enough taste, but I didn't find these to ease my anxiety at all. Mind you, after looking into Bach remedies I learned other flowers were recommended for me, not the ones features in these pastilles.
Date published: 2016-03-28
Rated

4

out of

5
by
Jess
from
I like the taste of them, and I think they work for people with average stress/anxiety. They really do not come close to prescriptions for those bad days though.
Date published: 2019-04-04
Rated

5

out of

5
by
Krystle
from
I find them very helpful when I feel a bout of anxiety coming on. I just chew one and a few minutes later I feel much more calmer and relaxed.
Date published: 2018-09-05
Rated

3

out of

5
by
D
from
Taste is good. Helps with some forms of my anxiety some days but not 100% effective.
Date published: 2016-12-08
Rated

5

out of

5
by
Susan
from
One of my favourites
I've used these for years, and find they really help to reduce my stress.
Date published: 2021-03-24