Band-Aid
Band-Aid Advanced Healing Cuts & Scrapes Bandages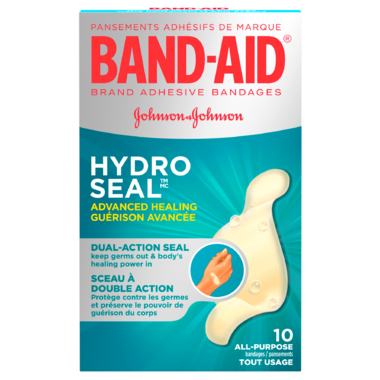 Band-Aid
Band-Aid Advanced Healing Cuts & Scrapes Bandages
Regular Size
10 Bandages
Band-Aid Advanced Healing Cuts and Scrapes Bandages
is rated out of
5
by
304
.
---
Description
Band-Aid Brand Hydro Seal All Purpose Bandages help keep germs out and your body's natural healing power in using hydrocolloid technology. Within 24 hours of application, a white bubble will form under the bandage which shows that the healing process has begun.

These waterproof bandages provide advanced wound care and cushion to help protect blisters. Cushioning provides protection and relief from painful blisters and wounds. These bandages deliver multiday protection and stay on even through hand washing and showers. Ideal for use on chest, arms, legs and all other parts of the body. This package contains 10 individually wrapped Gel Bandages, each measuring (2 cm x 6 cm).

Features:
Dual-Action Seal: Helps keep germs out and your body's natural healing power in
Stays on for multiple days, even through hand washing and showers

100% Waterproof
Ideal for blisters and wounds on any part of the body
Not made with natural rubber latex.
Instructions for Use: Before Use, see instructions inside of box. Ensure you clean the wound and dry it completely. To ensure the bandage properly adheres, it is recommended that you do not apply creams, ointments or lotions to the wound. Carefully remove the white paper tabs and apply the gel bandage directly on the wound. There is no pad. The Dual-Action seal that is formed provides the optimal healing environment. Within 24 hours of application the product will begin to swell and a white bubble will appear over the wound. This signals that your body's natural healing process has begun. You can wear it until it begins to detach. If removal is required, carefully loosen one end by stretching it along the skin. Do not pull upwards.

Caution
: Those with diabetes or poor circulation should use under doctor's supervision. Do not use on fragile skin, burns, stitches, infected areas, deep puncture wounds, existing scabs or on children under 2 years old.
Sterile unless individual wrapper is opened or damaged
Shipping & Returns
Unfortunately, due to the nature of this item, we cannot accept any returns.
We are only able to ship this item to Canadian customers.
Click here for more information
Rated

5

out of

5
by
emmaYEG
from
Hydro Seal will make you wonder why you didn't throw Nexcare into the garbage
I first purchased the Hydro seal bandage after several failed attempts to secure more traditional bandages on a cut finger tip. The bandage was appropriately shaped for finger tips and the adhesive gel was superior to all fabric or plastic varieties. Most importantly, the healing effect was as Band-Aid promises. I purchased the extra large bandages when I sustained serious abrasions on my knee - and while the product is higher priced amid others of comparable size - I trust this specific product more than all the others.
Date published: 2019-06-24
Rated

5

out of

5
by
Marls
from
Stays put, water proof, easy to apply.. a must have in the first aid kit
Picked these up to add to my first aid kit in my truck and loved them from the first time I used it. I noticed right away that it stayed put and didn't rub off as the others did when I used it on my elbow. It completely encloses the area and keeps it clean. Highly recommend this product.
Date published: 2016-10-30
Rated

3

out of

5
by
vcrkaren649
from
Not a regular bandaid
(This review was collected as part of a promotion.) I'm used to bandaids you put on and rip off 3 days later sticky and grungy. This new bandaid I tested for Chickadvisor has Hydroseal Advanced Healing. It works a little like those pimple patches. You put it on, your wound turns whitish underneath the bandaid and heals quickly. The reason for my lower rating is that it claims to be waterproof and stays on through regular handwashing etc. Through Covid, I've had to wash my hands a billion times a day and sanitize another billion times a day. This bandaid did not last past one day. I can tell the wound is healing quickly- I just wished it would stay on.
Date published: 2020-10-20
Rated

5

out of

5
by
Soccermom
from
Amazing for knees
I got a nasty turf burn on my knee playing indoor soccer. For a few days I wore regular bandaids. It was very uncomfortable, pulled on the burn and was painful. I got these patch things and put it on in the evening. By the next morning the bubble appeared and there is no more pain or pulling. It is amazing!!!!! Love this.
Date published: 2018-11-28
Rated

5

out of

5
by
Kwest219
from
Fabulous technology
(This review was collected as part of a promotion.) I love these bandaids, they're just like the hydrocolloid dressings I've used in nursing except on a smaller scale. They adhere well to clean and dry skin, they are flexible and durable, and my favorite part is that you can see drainage being absorbed over time (colour change), and the wounds don't macerate like with traditional bandaids. They are quite pricey, so I save these for the particularly gross wounds my kids have hidden from me until they're painful and infected. Then we set up Mom's Nursing Station (the kids think it's hilarious when Mom operates) and slap one of these babies on at the end.
Date published: 2020-11-11
Rated

5

out of

5
by
squiresenior
from
Great healing
I was recommended to try this product for a large scrape on my elbow. At first I was skeptical, as I thought it was a bit pricey and a configuration I was not familiar with, The young lady in the pharmacy urged me to try it. one week later, I was astonished by the results. Virtually complete healing. I would recommend this, especially for parents with active kids and seniors like myself who occasionally fall.
Date published: 2020-06-22
Rated

5

out of

5
by
BriarRose
from
Deep Scratch Fast Relief
My labradors nails got clipped last night a bit too sharp according to the scratches across my chin/neck I accidentally got while we were playing. (We have since filed them down!) I bought this product because it mentioned no scabbing = no scarring; and being on my face area that's important to me. It's also the closest thing to invisible... Even on my face!? It mentions to warm this up for one minute before applying. I put it sitting under my shirt to warm up while I cleaned the wound. It helped application immensely. I fully cleaned and dried the wound before application. No ointment underneith these is required. I tried that before fully reading the instructions - oops! - and had to wash it off. This is a scab replacement and keeps its own sanitary moisture in. The bubble has begun to form just over where the scratches are. Fascinating. It recommends not removing the bandage and letting it heal as long as possible.... So... as I head to bed I have put clear medical tape just around the corners and edges that I'll carefully remove in the morning as I don't want to chance it coming off and disturbing the healing cycle. If I don't come back and edit this post, it was a 5 star with no scars!!!
Date published: 2018-12-13
Rated

5

out of

5
by
JonnieH86
from
Comfortable, Durable and So Effective!
(This review was collected as part of a promotion.) These Hydro Seal Band-Aids are incredible! I sliced my finger pretty deeply on a cheese grater last week and immediately applied a Hydro Seal. Today, my finger has just the faintest line left. The bandage immediately stopped the pain of the cut and sealed around the wound so no water or dirt could get in. It was very comfortable to wear and didn't peel away, even after several days of regular hand washing and showering. I am so impressed and it Hydro Seal definitely be a go-to product in our household from now on. I received this product free of charge for review purposes.
Date published: 2020-10-16