Band-Aid Wet Flex Assorted Value Pack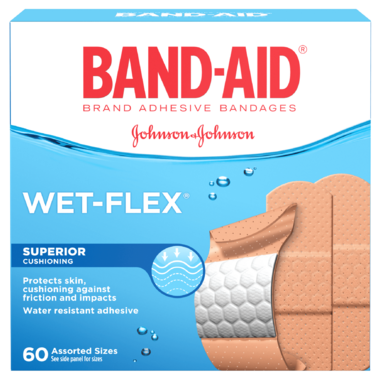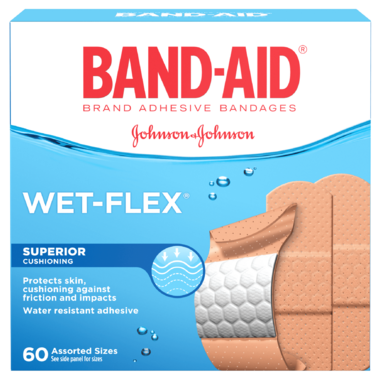 Band-Aid Wet Flex Assorted Value Pack
The Band-Aid Brand Wet-Flex Bandages are specially designed with a long-lasting water-resistant adhesive so the bandage stays in place, even when wet. The cushioned foam pad offers protection that moves with you when you're active, while the Quiltvent pad with air channels help keep the wound clean and provide superior breathability.

This value pack includes 60 water resistant adhesive bandages in various sizes, including: 30 small (1.5 cm x 5.7 cm), 20 regular (1.9 cm x 7.6 cm) and 10 large (2.5 cm x 7.6 cm). Sizing is ideal for both children's and adult's cuts and scrapes.

Features:
Covers and protects minorcuts and scrapes
Moves with you and stays in place
Quiltvent pad for breathability
Provides water resistant protection
Ideal for both children's and adult's cuts and scrape
Not made with natural rubber latex
Instructions for Use: For use on minor cuts and scrapes. For best results, apply bandage to clean, dry skin. Change bandage daily, when wet or more often if needed.

Caution: For medical emergencies seek professional help. Sterile unless individual wrapper is opened or damaged