Barlean's 3-6-9 Total Omega Swirl Orange Cream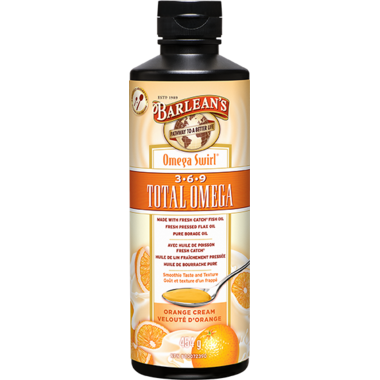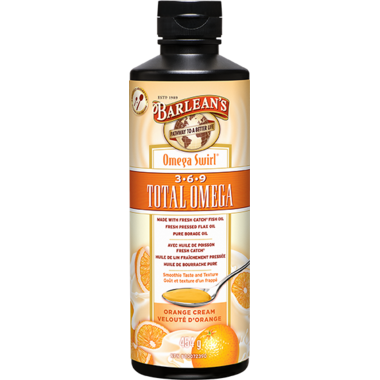 Barlean's 3-6-9 Total Omega Swirl Orange Cream
Total Omega Swirl combines fresh flaxseed oil, pure borage oil and Ultra-Purified Fresh Catch Fish Oil for a complete and balanced source of Omegas 3, 6 and 9. Barlean's proprietary emulsification technology gives this formula the delicious taste and texture of an orange creamsicle and provides superior absorption compared to standard nutritional supplements.

Benefits and Features:
Smoothie taste & texture
Source of Omega-3 fatty acids for the maintenance of
good health
Clinically proven more absorbable than standard oil
Recommend Dosage:
1-2 tbsp daily. Can be taken straight or mixed into juice, yogurt, oatmeal, cottage cheese or blended beverages.
Ingredients: Water, Total Omega Oil blend (fish oil (Anchovy, Sardine and/or Mackerel), flaxseed oil, and borage oil), xylitol, glycerine, gum arabic, natural flavors, citric acid, xanthan gum, guar gum, antioxidant blend (Vitamin E (as d-alpha tocopherol), rosemary extract, and ascorbyl palmitate), beta carotene and sorbic acid.

Dairy Free, Soy Free, Sugar Free, Gluten Free, Non-GMO Keep out of reach of Children.