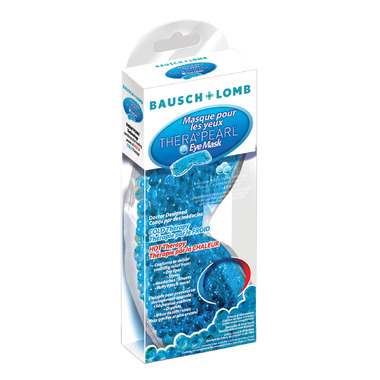 Description
Even after a restful night's sleep you can wake with red, puffy eyes that make you look and feel tired – especially during allergy season. Try the Thera Pearl Eye Mask to help your puffy eyes look and feel better every day.
The mask can be used cold or hot. Use cold to help relieve puffy eyes and those wicked sinus headaches. It takes the sting out of a brow wax and reduces swelling after a cosmetic procedure (in such a case, use the mask as directed by your doctor). Heat relieves dry eye associated with Meibomian Gland Dysfunction or MGD and Blepharitis, reduces nasal congestion, and relieves soreness once the swelling is gone.
Chill it in the freezer or fridge or pop it into the microwave. Place it over your eyes and sinuses, or slide it up to your forehead. Its pliable, face-hugging shape stays put without drips or leaks. The therapeutic temperature lasts approximately 20 relaxing minutes and feels very comfortable on your eyes.
Dimensions:
9 in x 2.75 in (22.9 cm x 7 cm)
Directions:
Thera Pearl Eye Mask should be applied to skin or closed eyelids no more than the doctor recommended time of 20 minutes. Remove and wait at least 20 minutes. Reapply eye mask for no more than 20 minutes, if needed. Clean eye mask gently with mild soap between uses.
COLD THERAPY: Freeze for at least 2 hours.
HEAT THERAPY: Microwave for time indicated below and test pack temperature. Heat for additional 5 seconds as needed until desired temperature is reached. Suggested heating time for (1) one Thera Pearl Eye Mask:
700 Watt Microwave: 15 seconds
1000 Watt Microwave: 12 seconds
1250 Watt Microwave: 10 seconds
CAUTION:
For external use only. Do not use on infants. Do not ingest contents. Do not use for purposes other than intended. Check with your doctor before use on broken, irritated, highly sensitive or insensitive skin. Use only under adult supervision. Always test pack temperature prior to application. Overheating or prolonged application may cause injury to person, including burns. Heating beyond suggested time may damage or destroy Thera Pearl pack.
Shipping & Returns
Unfortunately, due to the nature of this item, we cannot accept any returns.
We are only able to ship this item to Canadian customers.
Click here for more information