Be Better Complete Multi Strain Probiotic
5 Billion Active Cells
60 Veggie Caps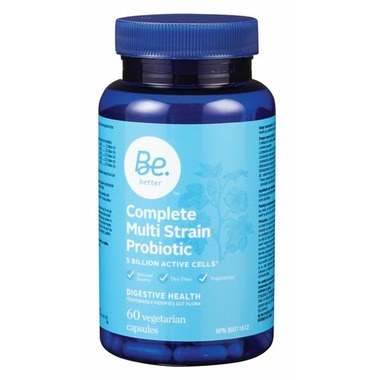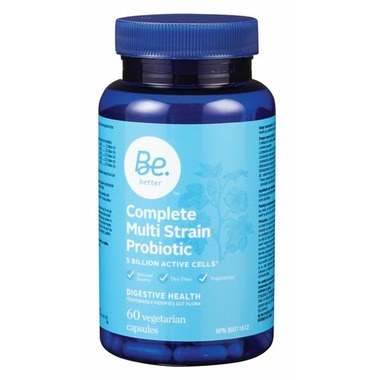 Be Better Complete Multi Strain Probiotic
5 Billion Active Cells
60 Veggie Caps
The Be Better Complete Multi Strain Probiotic is a natural, dye free, and vegetarian. They can temporarily modify gut flora to help with overall gut health.
5 billion active cells* of the following specially cultured strains:
Lactobacillus casei. 30% --- 1.5 billion CFU

Lactobacillus rhamnosus25% --- 1.25 billion CFU
Lactobacillus acidophilus15% --- 0.75 billion CFU
Bifidobacterium longum subsp. longum 15% --- 0.75 billion CFU
Bifidobacterium breve15% --- 0.75 billion CFU
* Guaranteed potency up to the time of expiry.
No refrigeration required but can prolong freshness of product.
Non-Medicinal Ingredients:
Potato starch, vegetarian capsule (carbohydrate gum, purified water), magnesium stearate, silica, ascorbic acid, skim milk, trypticase-soy broth, sucrose.
Dosage
: 1 capsule, 3 times daily or as recommended by a physician. Take at least 2–3 hours before or after antibiotics.
Discontinue use and consult a physician if symptoms of digestive upset (e.g., diarrhea) occur, worsen or persist beyond 3 days. Do not use if you have an immune-compromised condition.