Be Better Double Strength Complete Multi Strain Probiotic
10 Billion Active Cells
30 Veggie Caps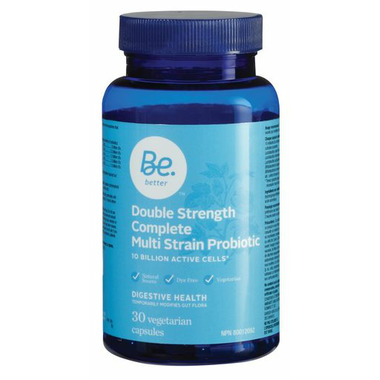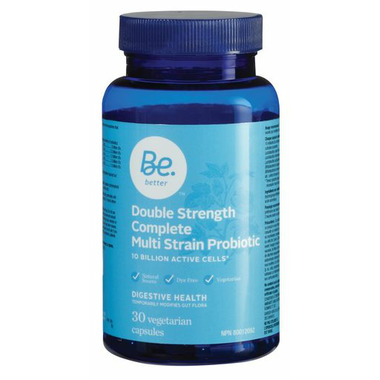 Be Better Double Strength Complete Multi Strain Probiotic
10 Billion Active Cells
30 Veggie Caps
The Be Better Double Strength Complete Multi Strain Probiotic is a natural, dye free, and vegetarian. They can temporarily modify gut flora to help with overall gut health.
10 billion active cells* of the following specially cultured strains:
Lactobacillus casei (HA-108) --- 30% --- 3 billion CFU
Lactobacillus rhamnosus (HA-111) --- 25% --- 2.5 billion CFU
Lactobacillus acidophilus (HA-122) --- 15% --- 1.5 billion CFU
Bifidobacterium longum subsp. longum (HA-135) --- 15% --- 1.5 billion CFU
Bifidobacterium breve (HA-129) --- 15% --- 1.5 billion CFU*

*Guaranteed minimum 10 billion active cells per capsule at time of expiry.

Non-Medicinal Ingredients
: Potato starch, vegetarian capsule (carbohydrate gum, purified water), magnesium stearate, silica, ascorbic acid, skim milk, trypticase-soy broth, sucrose.
Dosage
: 1 capsule, 1–2 times daily, preferably with meals, or as recommended by a physician. Take at least 2–3 hours before or after antibiotics.
Discontinue use and consult a physician if symptoms of digestive upset (e.g., diarrhea) occur, worsen or persist beyond 3 days. Do not use if you have an immune-compromised condition.