Benny Bully's Beef Liver Plus Hemp Dog Treats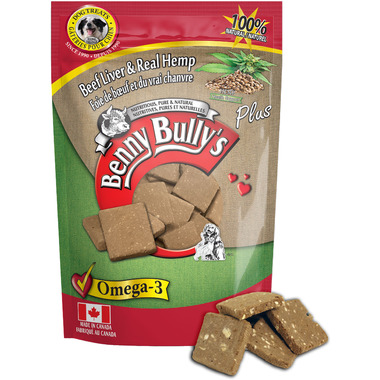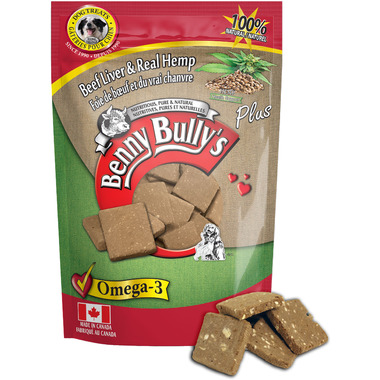 Benny Bully's Beef Liver Plus Hemp Dog Treats
Benny Bully's Beef Liver Plus Hemp Dog Treats are a nutritious, pure and natural alternative to traditional pet treats. With an innovative cutting and drying process, Benny Bully's are one of the few "no chemicals added" treats on the market today. Made from pure natural beef livers, sliced and specially sized to provide easy feeding, and maximum palatability, attractive to even the most hard to please pets. Benny Bully's pure natural fillets of beef liver, offer your pet a full true flavour.
Features:
Made with only two ingredients, Pure Beef Liver and Hemp
Hemp is an excellent source of Omega-3
Essential Fatty Acids, for Healthy Skin & Coat
Hemp is a good source of Protein, Essential Vitamins, Minerals, Fiber, Antioxidants, and Enzymes
Hemp is easily digestible
Beef Liver is an excellent source of Protein
Great for training
Freeze dried to lock in the flavour, aroma, and texture pets crave
Directions:
Break and feed pieces as a treat or snack.
Ingredients:
100 % Pure Beef Liver, Hulled Hemp Seeds. Contains no significant or detectable ammount of Cannabidiol (CBD) or Tetrahydrocannabinol (THC).