Benylin
Benylin All-In-One Extra Strength Cold & Flu Caplets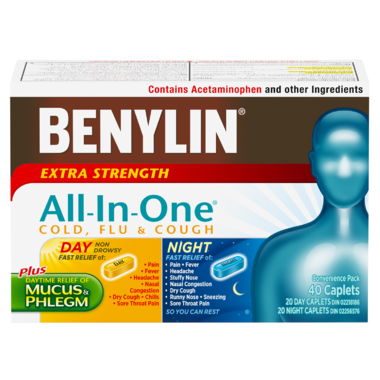 Benylin
Benylin All-In-One Extra Strength Cold & Flu Caplets
Day & Night
40 Caplets
Benylin All-In-One Extra Strength Cold and Flu Caplets
is rated out of
5
by
53
.
---
Description
Benylin All-In-One Cold & Flu Caplets provide both Day and Night relief in one convenient, portable pack. Benylin helps relieve 11 cold and flu symptoms in 1 simple solution.
RELIEVES:

Pain
Fever
Headache
Stuffy nose
Runny nose
Sore throat
Dry cough
Chest congestion
Chills
Sneezing
Itchy/watery eyes
Mucus and phlegm

Package contains 40 caplets (20 day caplets and 20 night caplets).

Directions: Adults (12 years and over) take 2 caplets every 6 hours. Maximum 8 caplets in 24 hours. (Not to be used by children under 12 years.)

Medicinal Ingredients:

Day Caplets: Acetaminophen 500 mg, Dextromethorphan HBr 15 mg, Pseudoephedrine HCl 30 mg and Guaifenesin 100 mg.
Night Caplets: Acetaminophen 500 mg, Pseudoephedrine HCl 30 mg and Diphenhydramine HCl 25 mg.

Non-Medicinal Ingredients: cellulose, croscarmellose sodium, D&C Yellow nº 10 aluminum lake, FD&C Blue nº 1 aluminum lake, hypromellose, polyethylene glycol, polysorbate, polyvinyl pyrrolidone, propylene glycol, silica, silicon dioxide, starch, stearic acid, titanium dioxide, wax and zinc stearate. Gluten-, lactose-, paraben-, sucrose- and tartrazine-free.
CAUTION: Do not use with other products containing any of these ingredients. Doing so may result in accidental overdose. This package contains enough medicine to seriously harm a child. Keep out of reach of children. Avoid Alcohol. Use only on the advice of a doctor. Talk to a doctor before using this product if you have chronic alcoholism, serious liver or kidney disease, high blood pressure, heart or thyroid disease, diabetes, asthma, chronic lung disease/shortness of breath, persistent/chronic cough, glaucoma or difficulty urinating due to enlargement of prostate gland, or are elderly, pregnant, breast-feeding, or taking a drug for depression, including monoamine oxidase (MAO) inhibitor drugs. Check with a doctor if symptoms do not improve within 5 days, or if cough worsens, lasts more than 7 days, or tends to recur or if you also have excessive secretions or fever for more than 3 days. Taking more than the recommended dose can cause serious liver damage, nervousness, dizziness or sleeplessness. In case of accidental overdose contact a doctor or Poison Control Center immediately, even if there are no symptoms. BENYLIN®1 Night Caplets: May cause drowsiness. Do not engage in activities requiring alertness. Talk to a doctor before use if you are taking other sedating drugs at night.
Should you require consultation with a pharmacist, you may
contact our Well.ca Pharmacist.
Please read the label, warnings and inserts provided by the manufacturer and consult your healthcare professional when purchasing medications or natural health products to be sure the product is right for you.
Shipping & Returns
Unfortunately, due to the nature of this item, we cannot accept any returns.
We are only able to ship this item to Canadian customers.
This item cannot be shipped to Quebec due to provincial pharmacy regulations.
Click here for more information
Rated

5

out of

5
by
racechick
from
great all in one
I caught a nasty bug that was going around right before the holidays. I picked up a box of Benylin All in One on a friends' recommendation, and it really does work as well as the ads say it does. I like that there is daytime and nighttime in the same box.
Date published: 2018-01-03
Rated

5

out of

5
by
Lids89
from
Great product
Definatly works. At one point was feeling pretty good and didnt take the next day dose. Yup was definatly the benylin keeping me going while getting over this bug.
Date published: 2018-11-24
Rated

4

out of

5
by
DG11
from
Seems to work best....
...of the various products I have tried to relive cold symptoms. The Night tablets are especially good in helping get a good night's sleep.
Date published: 2017-01-28
Rated

5

out of

5
by
darlingex
from
Works fast!
This product works almost immediately in clearing up my runny and stuffed nose, and my cold usually goes away in 3 days.
Date published: 2014-10-19
Rated

5

out of

5
by
marriedgirl
from
cold relief
I used Benylin All in one Cold and Flu medication because of the day and night formula. I wasn't drowsy when taking it during the day and was able to get a good night's sleep as well.
Date published: 2017-12-02
Rated

5

out of

5
by
Bill
from
Works great!
The only medicine my wife and I use when we come down with a cold -- night time pills work great, helps with restful sleep.
Date published: 2022-09-25
Rated

5

out of

5
by
Tucoma
from
Life Saver
Its worth every penny. Its mandatory in my house. Works very well and easy on the stomach.
Date published: 2014-10-09
Rated

5

out of

5
by
VioletS
from
This Works Wonders
I have been using Benylin All-In-One for my family since I first saw it in the stores years ago. It is my go to cold/flu medicine. Most cold products do not work when you first take them as it takes a while to get into your system. Benylin is not like that at all. It works right from the first time you take it and continues to work well every time. Relieves the stuffy, runny nose, takes away aches and pains and definitely relieves the coughing. HIGHLY RECOMMEND this product. My house would not be caught without it.
Date published: 2017-01-10