Benylin Extra Strength Cold & Sinus Plus+ Tablets
D-A-AH with Acetaminophen
24 Tablets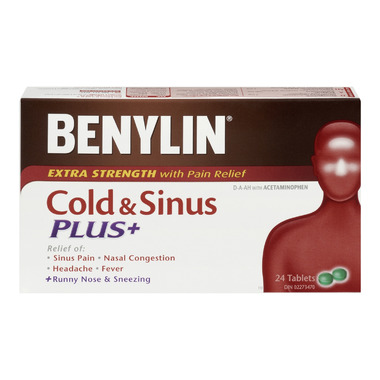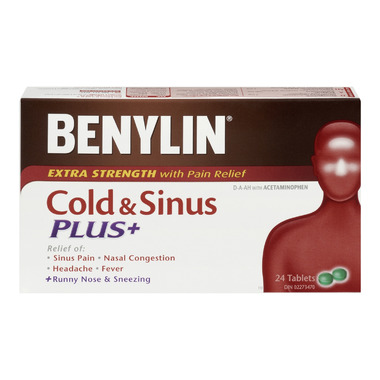 Benylin Extra Strength Cold & Sinus Plus+ Tablets
D-A-AH with Acetaminophen
24 Tablets
Benylin Cold and Sinus Plus is available in convenient and portable tablets. Try Benylin for fast, effective relief of your cold and sinus symptoms!
RELIEVES:
Nasal and sinus congestion
Sinus pain
Fever due to colds
Headache
Runny Nose
Sneezing
Itchy/watery eyes
Directions:
Adults (12 years and over) take 1-2 caplets every 4-6 hrs. Maximum 8 caplets per day. (Not recommended for children under 12 years.)
Medicinal Ingredients:
Phenylephrine Hydrochloride (5 mg), Acetaminophen (500 mg), Chlorpheniramine Maleate (2 mg) per tablet.
Non-Medicinal Ingredients:
Celluloses, FD&C blue nº 1 aluminum lake, FD&C yellow nº 6 aluminum lake, polyethylene glycol, polyvinyl alcohol, povidone, Quinoline yellow aluminum lake, silicon dioxide, starch, stearic acid, talc, titanium dioxide.
CAUTION:
Keep out of reach of children. This package contains enough medicine to seriously harm a child. Use only on the advice of a doctor. May cause drowsiness or excitability. Avoid alcohol. Do not drive or engage in activities requiring alertness. Talk to a doctor before using this product if you have chronic alcoholism, serious kidney or liver disease, high blood pressure, heart or thyroid disease, diabetes, chronic lung disease, glaucoma or difficulty urinating due to enlargement of the prostate gland, or are elderly, pregnant, breast feeding, or taking a drug for depression, including monoamine oxidase (MAO) inhibitor drugs. Consult a doctor if the underlying condition requires continued use for more than 5 days or if you also have a fever. It is hazardous to take more than the maximum recommended dose unless advised by a doctor. Nervousness, dizziness, or sleeplessness may occur at higher doses. In case of accidental overdose, contact a doctor or Poison Control Centre immediately.