Better Life Dish Soap Unscented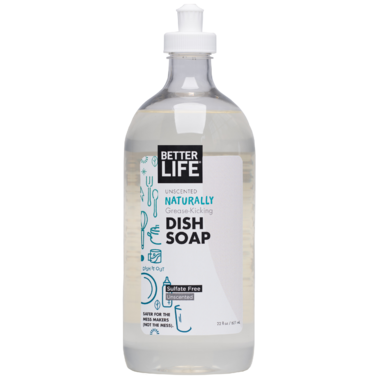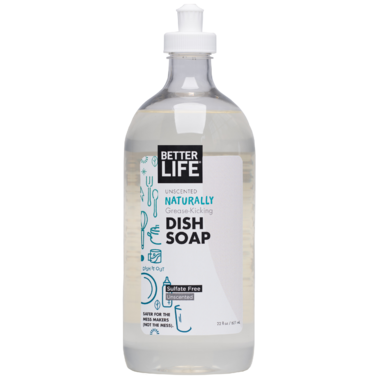 Better Life Dish Soap Unscented
Better Life Dish Soap puts the hurt on grease without sulfates, keeping your hands happy. No need to wear gloves or other accessories – vitamin E and aloe will soothe and moisturize your hands. Discover how pure plant power equals easy rinsing without residue.

Features:
Non toxic and biodegradable
Safe around kids, pets, and the planet
Never tested on animals
Kind to waterways and marine life
Made in USA with solar energy
DOES NOT CONTAIN: Sodium Lauryl/laureth sulfates, Triclosan Petrolum solvents, Parabens, Synthetic fragrances, Alcohol, Ethoxylates, Dyes.
Directions:
Squirt it on cookware, bakeware, cutlery, flatware, dinnerware, serveware, and other wares, except Delaware. Squirt onto your toughest, greasiest messes. Scrub. Rinse. Not for use in automatic dishwashers.
Ingredients:
Purified Water, potassium cocoate lauryl glucoside, caprylyl/capryl glucoside, decyl glucoside, glycerin, disodium cocoglucoside citrate, aloe barbadensis leaf extract, tocopherol (vitamin E)
While Better Life is non-toxic, it's better as a cleaner than a beverage. Don't drink, and keep out of reach of children

Kelly:
a few months ago
This is the only dish soap I buy and am SO thrilled that Well.Ca has it available now. This dish soap has one of the best ratings as a non toxic / chemical free dish soap. I have not found another one out there that truly is non toxic AND it works and produces suds.. I love all Better Life products!
Page
1