Better Life Dishwasher Gel Unscented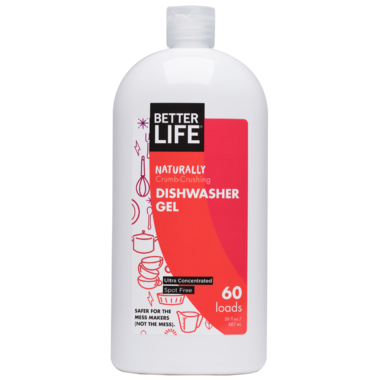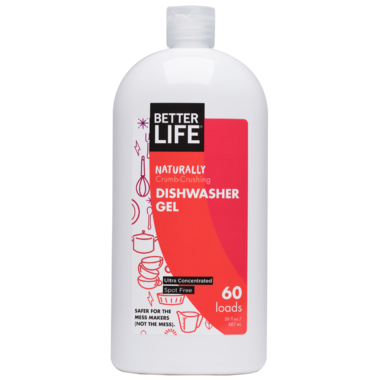 Better Life Dishwasher Gel Unscented
Better Life Dishwasher Gel powers through stubborn stains and stuck-on food, leaving no trace of film or cloudiness behind – just dazzlingly beautiful dishes, glasses, and utensils. Don't be surprised if the dish runs away with the spoon.
Features:
Non toxic and biodegradable
Safe around kids, pets, and the planet
Never tested on animals
Kind to waterways and marine life
Made in USA with solar energy
DOES NOT CONTAIN: Sodium Lauryl/laureth sulfates, Triclosan Petrolum solvents, Parabens, Synthetic fragrances, Alcohol, Ethoxylates, Dyes.
Directions:
First, shake it up! For regular loads, squirt 1 tbsp. into your automatic dishwasher's detergent cup. Double up with 2 tbsp. if the racks are a little more crowded. Rinse dishes before loading for best results.
Ingredients:
Purified Water, potassium cocoate lauryl glucoside, sodium citrate, coco glucoside, sodium silicate, decyl glucoside, glycerin, quillaja saponaria bark extract, sodium carbonate, xanthan gum, sorbitan oleate, enzyme blend, citric acid
While Better Life is non-toxic, it's better as a cleaner than a beverage. Don't drink, and keep out of reach of children



Jennifer:
a couple of weeks ago
Great product even on dishes that aren't pre-rinsed. Doesn't do well with the regular culprits of cheese, eggs, baked on stuff but otherwise great product. Glad to finally find something unscented for the dishwasher! The dishes really do sparkle! Watch your amounts - the first time I didn't put too much over the recommended but had bubbles and water coming out the bottom of my dishwasher - hasn't happened since lessening the soap input with no detriment to the cleaning of the dishes.
Page
1