Bioflor 7 Kids + Immune Probiotic
Natural Fruit Flavour
5 x 8ml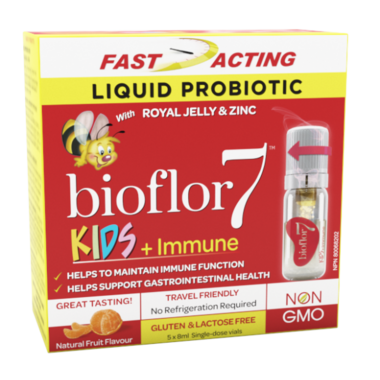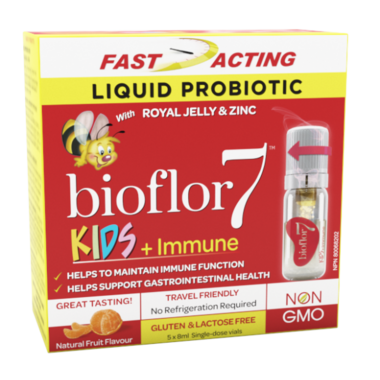 Bioflor 7 Kids + Immune Probiotic
Natural Fruit Flavour
5 x 8ml
- We're sorry, this product is no longer available!
- Shop for other products in: Probiotics

Bioflor 7 Kids + Immune is an innovative Biphase liquid probiotic with Royal Jelly and Zinc, scientifically formulated to help boost your immune system and rebalance you intestinal ecosystem in only 5 days. Prevent recurring ear infections after antibiotics with one full 5 DAY program. The perfect probiotic maintenance program without the tedious daily capsule routine. Only one vial per day for 5 consecutive days and repeat once a month.
Features:
Fast acting liquid probiotic
With Royal Jelly and Zinc
Helps to maintain immune function
Helps support gastrointestinal health
Travel friendly - no refrigeration required
Gluten and Lactose Free
Great tasting natural fruit flavour
For Children from the age of 3 and up
Suggested Use:
Release Probiotic, Royal Jelly and Zinc from inside the cap into the liquid by turning clockwise until the outer and inner seals are broken, shake vigorously and tap until the mixture is consistent, open the cap and drink. Can also be mixed in favorite cold drink.
Contains:
4 Premium Live Cultures: Bifidobacterium Lactis, L. Acidophilus, L. Plantarum, L. Paracasei With 5 Billion live cells* (*At time of expiry. More at average time of use)

ZINC - Vital for normal growth and development of the organs and brain. Normal functioning of the immune system. Zinc deficiency has been linked to decreased growth, increased colds and infections, and impaired memory and learning disabilities.

ROYAL JELLY - Contains an extraordinarily high concentration of vitamins B5, B6, and amino acids and is believed to be a potent antioxidant and immune booster.

Please be advised that Well.ca follows manufacturer guidelines for storing & shipping probiotics.