Biore Blemish Fighting Astringent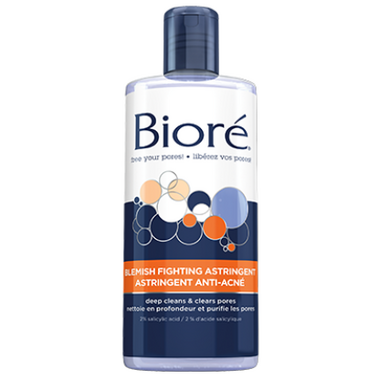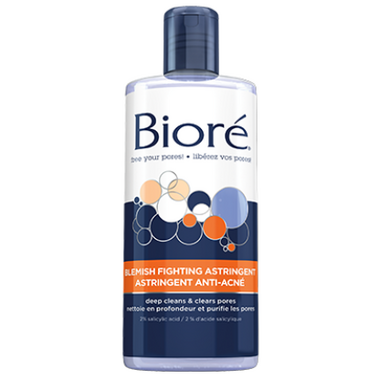 Biore Blemish Fighting Astringent
Got blemishes? Get treatment with Biore Blemish Fighting Astringent.
This power-packed astringent formula goes beyond just cleaning and actually helps treat blemishes and helps prevent future breakouts. Use it on its own or as a follow-up to Blemish Fighting Ice Cleanser or Pore Unclogging Scrub. Plus, it's the perfect pre-treatment to give your Pore Strip maximum power. And since Biore loves your skin and want to treat it nicely, they made our astringent gentle enough to use every day.
Features:
MEDICINAL INGREDIENTS: SALICYLIC ACID 2%

NON-MEDICINAL INGREDIENTS: AQUA, SDAG-6, ISOPROPYL ALCOHOL, HAMAMELIS VIRGINIANA, GLYCERIN, ALCOHOL, MENTHOL, BENZOPHENONE-4, POLYSORBATE 60, CITRIC ACID, SODIUM CITRATE, SODIUM HYDROXIDE, DISODIUM EDTA, PARFUM, BLUE 1, RED 4, EXT. VIOLET 2.

Willow:
more than a year ago
In fighting acne, 2% salicylic acid astringents with a light alcohol base, like this one, which is very good, are underutilized. I use it between washing and 2.5% benzoyl peroxide cream. Salicylic acid plus benzoyl peroxide are known to be more powerful than the sum of their parts when fighting acne. The salicylic acid lets the peroxide penetrate deeper. And unlike with a salicylic acid wash, you leave this on, which I have found important. Years of experience have shown me that the difference between using this product and not is the difference between having acne and not. Try it between washing and treating your face. It could make all the difference.
Page
1