BioSteel Performance Sports Mix Blue Raspberry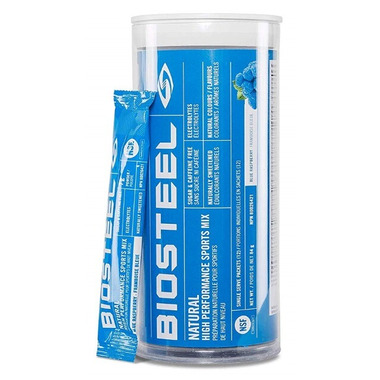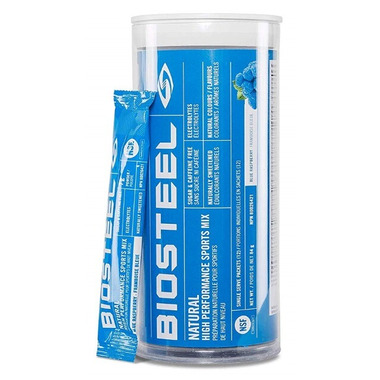 BioSteel Performance Sports Mix Blue Raspberry


An electrolyte and hydration mix that provides sustained healthy energy while reducing fatigue without the use of sugar or caffeine.
INITIALLY DEVELOPED FOR PRO ATHLETES, OUR NATURAL HIGH PERFORMANCE SPORTS DRINK MIX IS NOW THE GO-TO SPORTS DRINK IN LOCKER ROOMS AND HOUSEHOLDS ALIKE, FEATURING QUALITY INGREDIENTS THAT DELIVER OPTIMAL HYDRATION, HEALTHY SUSTAINED ENERGY, AND IMPROVED RECOVERY FROM FATIGUE.
Directions:
Adults: mix 1-2 scoops, 2 times per day with 250-500 ml of water.
- Before and during exercise
- At the office/studying
- Physical work days
- Overall daily hydration" "NUTRITIONAL FACTS

AMOUNT PER SERVING (7 G)
SERVINGS PER CONTAINER 45
Calories 5
Fat 0 g
Sodium 140 mg
Potassium 30 mg
Carbohydrate 1 g
Sugars 0 g
Protein 0 g
Calcium 12.5 mg
Magnesium 5.5 mg
Zinc 162 mcg
Active Ingredients
Vitamin B Blend
Biotin 0.2 mcg, Choline (Choline Bitartrate) 107.5 mcg, Vitamin B12 (Cyanocobalamin) 0.2 mcg, Folic Acid 5.8 mcg, Inositol 250 mcg, Niacin (Vitamin B3) 256 mcg, Calcium D-Pantothenate 237 mcg, Vitamin B6 300 mcg, Riboflavin (Vitamin B2) 300 mcg, Thiamine (Vitamin B1) 300 mcg
Amino Acid Blend
L-Leucine 1184 mg, L-Valine 536 mg, L-Isoleucine 536 mg, Glycine 458 mg, L-Glutamine 970 mg, Taurine 135 mg
Mineral Blend
Calcareous Marine Algae (Lithothamnion spp.) 37 mg, Magnesium Citrate 13.5 mg, Zinc Hydrolyzed Vegetable Protein, Chelate 540 mcg, Sodium Citrate 135 mg, Tri-Potassium Citrate 89 mg