Biotics Research A.D.P. Emulsified Oregano Delayed Release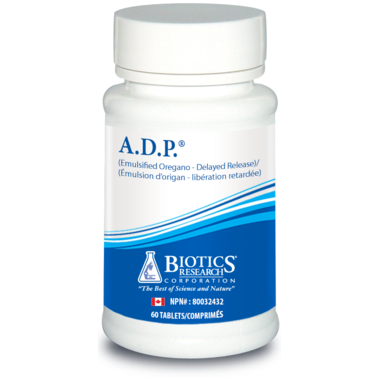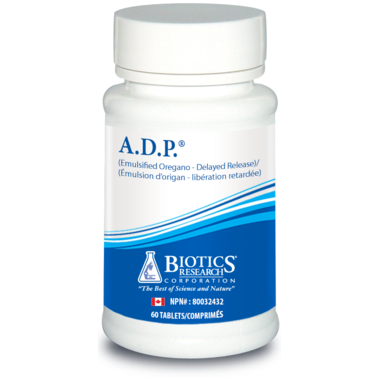 Biotics Research A.D.P. Emulsified Oregano Delayed Release
A.D.P. is a proven effective and patented formula. Utilizing micro-emulsification and delayed release technologies, A.D.P. delivers standardized oil of oregano throughout the digestive tract, where it functions to impact undesirable intestinal organisms.

This may be suitable for those suffering with gut dysbiosis, toxic bowel syndrome, candida, intestinal parasites, yeast, fungus, genital-urinary tract infections and for antimicrobial action with upper respiratory bacterial or viral infections, especially in the case where there is antibiotic resistance.

Dosage: Take 4 tablets per day with meals (take with food) or as otherwise directed by a healthcare practitioner. Take a few hours before or after taking supplements containing iron, zinc, calcium or copper.
Active Ingredients: Oregano Oil (Origanum vulgare) (extract from leaf)

Other Ingredients: Cellulose, modified cellulose gum, potassium sorbate, stearic acid (vegetable source), silica, water and gum arabic.

Cautions: Always follow up with probiotics after use over 2 weeks. Not recommended for pregnant or lactating women. KEEP OUT OF REACH OF CHILDREN.
This product is gluten, dairy and GMO free.