BOB 2016 Revolution Flex Duallie Black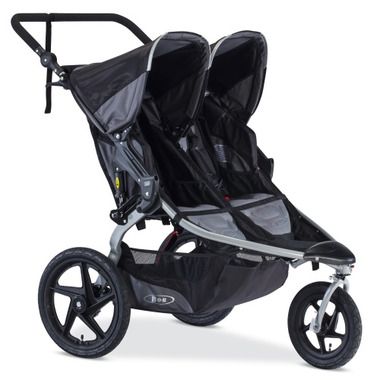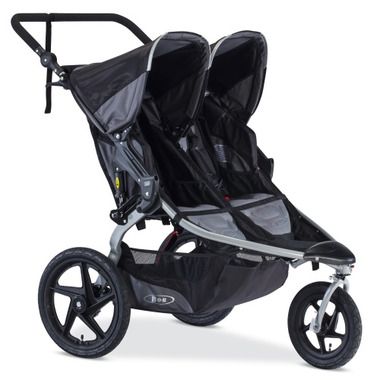 BOB 2016 Revolution Flex Duallie Black
The BOB® Revolution® FLEX DUALLIE® is the ideal on- and off-road jogging stroller, for outdoor enthusiasts and urbanites alike, keeping families active for the years to come. So whether you want a vigorous training session or a nice long walk with your two kids, the Revolution FLEX DUALLIE is the ideal stroller for larger families.
This stroller is amazingly versatile. The front wheel swivels, which allows for easy maneuverability through parks, city streets and other tight spots, but also locks for added stability when jogging or taking on rough terrain. And the handlebar adjusts, offering 9 positions to provide a perfect fit for parents of different heights.
The Revolution FLEX DUALLIE boasts an ultra-smooth ride for your little adventurers. The state-of-the-art adjustable suspension system takes bumps in stride. Boardwalks, beaches and trails are no match for this stroller. Kids love the fully upright seating option and you only need one hand to adjust their seat angle. And keep all your supplies, gear and even a few toys in the extra-large cargo basket. When you're done for the day, fold the stroller in seconds and get going.
Combine the Revolution FLEX DUALLIE with an infant car seat, like the BOB B-Safe 35 by Britax®, to create the best travel system for your lifestyle.
So go ahead – take your adventures to new heights with the BOB Revolution FLEX DUALLIE. BOB, the #1 jogging stroller.
Features and Benefits:
Swiveling-locking front wheel swivels to maneuver tight turns with ease or locks forward for increased stability when jogging or on rough terrain.
Adjustable padded handlebar offers 9 positions to create the perfect fit for parents of all heights.
State-of-the-art adjustable suspension system offers 3 inches of travel and 2 stages of weight support for an ultra-smooth ride.
Easy two-step fold for convenient transportation and storage.
Travel system-ready when using the BOB DUALLIE Infant Car Seat Adapter (sold separately). Pair with a matching BOB B-Safe 35 Infant Car Seat by Britax® or with any other major brand
We're sorry! This item does not qualify for free samples.
Vimaldeep:
a few months ago
Love love love this stroller. I have had it for over 2 years. I use it for running every day, drop and pick up kids from school. Still running smooth. it runs smooth, kids get a very smooth ride. We have taken it to every kind of terrain possible and it works great be it a trail or a beach. The rain cover that it comes with is awesome as well.
We have travelled with it. I take it to the mall, it's a bit bulky but it does get into most doors, the basket is good sized.
The reclining seats a great for when my toddler falls asleep when we go for a walk. The sun hood is very large with a very clear view on kids.
This stroller has everything you can ask fo and more.
Page
1