Bob's Red Mill Protein Pancake & Waffle Mix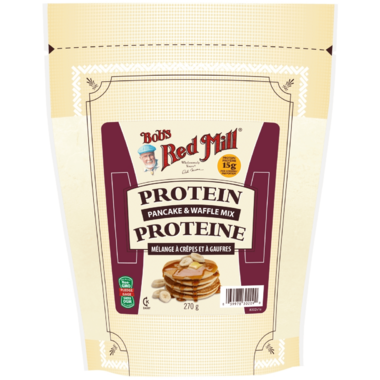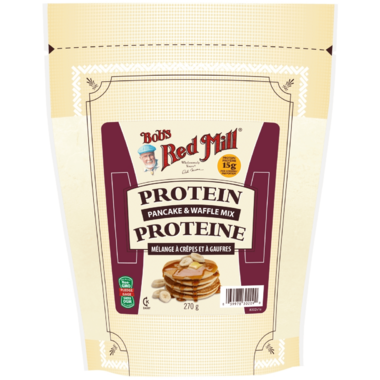 Bob's Red Mill Protein Pancake & Waffle Mix
This high protein pancake mix is packed with a hearty 15 grams of protein per serving! Bob's Red Mill delicious, wholesome Protein Pancake & Waffle Mix is easy to prepare–the only ingredient you need from your kitchen is water.

Featuring their own stone-ground whole wheat pastry flour, whey and pea proteins, and sweet cream buttermilk, it's the perfect recipe for a satisfying breakfast or snack that will fuel your body and keep hunger at bay.
Whole Grain: This product is 100% whole grain. It includes all of the nutritious bran, germ and endosperm that whole grains offer.
Kosher Dairy: As a continued commitment to the quality of the products we make and sell, all of Bob's Red Mill products are certified Kosher by OK Kosher Certification of Brooklyn, New York.
High Fiber: Each serving of this product provides 20% or more of the recommended daily value for fiber. Dietary fiber aids digestion and makes you feel full faster, so it can help you maintain a healthy weight.
Ingredients: Whole wheat pastry flour, whey protein concentrate [ whey protein concentrate (milk), sunflower lecithin], sweet cream buttermilk powder (milk), vital wheat gluten flour, pea protein isolate, psyllium husk powder, cane sugar, monocalcium phosphate (leavener), sea salt, baking soda. May contain: Tree Nuts. Made in a facility that uses: Tree Nuts, Soy.