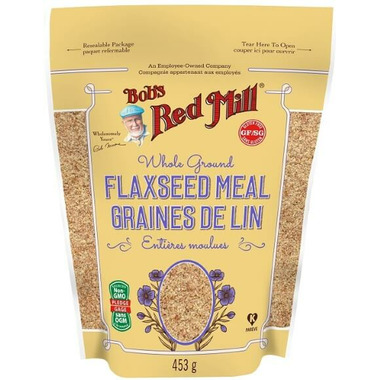 Description
Flaxseed Meal has a mild, nutty flavor and contains omega-3 fatty acids. Two tablespoons of our Flaxseed Meal offers 2.5g of omega-3s. The flaxseeds are cold milled to preserve the freshness and nutrition of its precious oils. Add it to smoothies, cereals, and baked goods for a wholesome nutritional boost.
Add flaxseed meal to bread, pancakes, muffins, bars, cookies and other recipes for extra nutrition and a nutty flavor. Replace oil or shortening in a recipe with ground flaxseed. Substitute flaxseed at a 3:1 ratio for best results. Use flaxseed meal as an egg replacer in recipes for muffins, cakes, cookies, and pancakes. Use one tablespoon of flaxseed meal and 3 tablespoons of liquid to replace each egg called for in the recipe. Reduce the flour in a recipe by up to 25 percent and replace it with ground flaxseed. Find recipes and tips for flaxseed meal in our recipe collection.
Ingredients: Whole Flaxseed
Warning: Processed in facility that also uses tree nuts, soy, wheat, milk and sesame seeds.

Highlights

Shipping & Returns