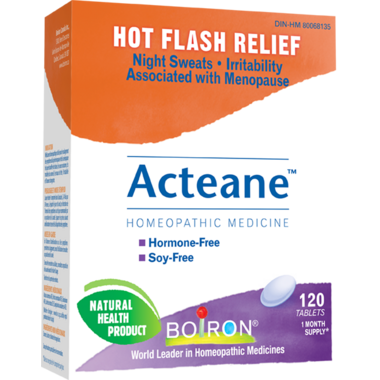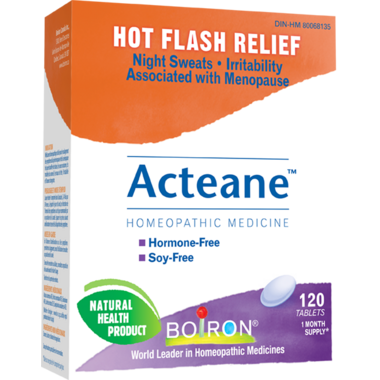 Boiron Acteane is a homeopathic medicine used for the relief of prerimenopause and menopause symptoms such as hot flashes, night sweats,sleep disorders, headache, irritability and mood swings.
Features:
Natural Alternative to relieve perimenopause and menopause
Hormone-free
Soy-free
Non-drowsy
Chewable tablets
Does not require water
Dosage:
Allow 1 tablet to dissolve in the mouth 2 to 4 times, throughout the day or night, depending on the intensity of the symptoms or as recommended by a health care practitioner. Reduce with improvement and stop as soon as symptoms disappear.
Medicinal Ingredients:
Actaea racemosa 4CH
Arnica montana 4CH
Glonoinum 4CH
Lachesis mutus 5CH
Sanguinaria canadensis 4CH
Non-Medicinal Ingredients:
Sucrose, lactose, magnesium stearate.
Caution:
If no improvement or if symptoms persist or worsen, discontinue use and consult a health care practitioner. If pregnant or breastfeeding, ask a health care practitioner before use. Keep out of reach of children.