Botanica Turmeric Liquid Phytocaps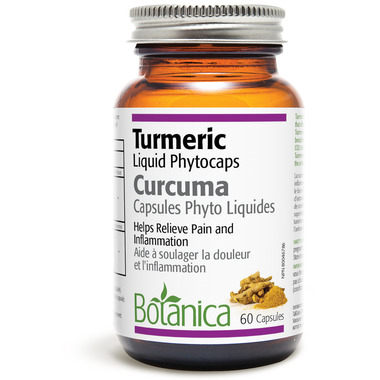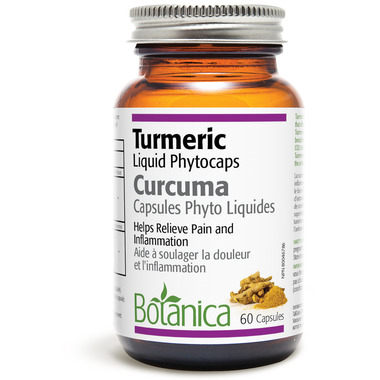 Botanica Turmeric Liquid Phytocaps
Botanica Turmeric Liquid Phytocaps helps modulate inflammatory pathways that affect heart, joints, liver, and cellular health. Botanica Turmeric uses dual extraction technology to deliver the broadest spectrum of herbal constituents: 1. Supercritical CO2 extraction, which yields high concentrations of Turmerones, and 2. Alcohol extraction, which captures the antioxidant Curcumin.

Directions: Take one capsule daily, or as recommended by your health care practitioner.

Ingredients: Turmeric root (Curcuma longa) 406 mg, Turmeric root (Curcuma longa) 42 mg, (36 mg curcumins from total ETOH Extract), Turmeric root Supercritical CO2 34 mg (20 mg turmerones from Supercritical Extract), Black pepper fruit (Piper nigrum) Supercritical CO2 7 mg. Non-medicinal ingredients: Vegetable glycerin, soy lecithin, chlorophyll vegetable cellulose (capsule).

Consult a health care practitioner prior to use if you are pregnant or breastfeeding. Store away from children. Do not use if seal is broken.

Dairy Free, Gluten Free, Non-GMO, Vegetarian




Tina:
about a year ago
I have been using this product for several months now and what a difference it has made for me! I had been on various daily NSAIDS for 15 years for chronic pain related to a work injury and was becoming worried about what it was doing to my stomach. I was sceptical about turmeric but I am a true believer as I very rarely have to take anything else for my aches and pains.
Amy:
about a year ago
It truly does work. The pepper in this product helps push it into the blood stream quickly promptly targeting your inflamed joints and pain. I have used this product for over 6 months now. It really does work. Works for back pain, sore muscles and aches after a long hike, arthritis, and etc. I highly recommend this product.
Tina:
more than a year ago
I have been using this for 3 months now and I can't believe how well it works. I was taking NSAIDS (such as Advil and Naproxen) every day for approximately 15 years. Now I am totally off anti-inflammatory medication, with the exception of an occasional migraine. I love how turmeric has helped me.
Page
1