Bravado Designs
Bravado Designs The Body Silk Seamless Nursing Bra Butterscotch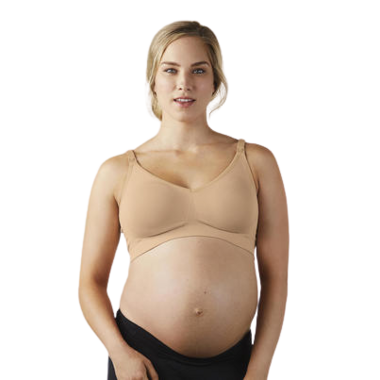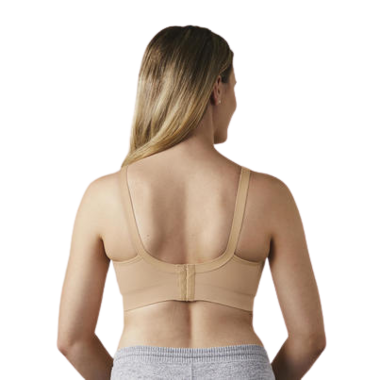 Bravado Designs
Bravado Designs The Body Silk Seamless Nursing Bra Butterscotch
Size XS-2XL
Bravado Designs The Body Silk Seamless Nursing Bra Butterscotch
is rated out of
5
by
168
.
---
Description
This item is a final sale item. Returns cannot be accepted.
The Bravado Designs Body Silk Seamless Nursing Bra melts onto your body and gives you comfort unlike anything you've experienced from a nursing bra before - wear it while nursing or as a maternity bra. A mom and celebrity favorite, everyone loves this seamless nursing bra that molds to your shape.
It is made from seamless buttery soft and stretchy fabric that's comfortable to wear all day and virtually invisible under clothing. Clips unclip at the shoulder and down and away from your body to give baby full access to your breast, providing you and your baby skin-to-skin contact.
Features:
Luxuriously soft.
Seamless & wire-free for added comfort.
Removable foam inserts provide a lovely shape & nipple discretion.
4-way stretch fabric molds to your changing shape.
XS-S-M-L-XL-2X sizing makes shopping easy.
In Full Cup sizes, knit-in zones around the cups provide lift and support

Easy open and close clips.
Full drop-away bra cups.
This product has been tested and certified in accordance with the OEKO-TEX® Standard 100 requirements, which ensures products are free from harmful substances.
Content (exclusive of elastic): 90% nylon, 10% spandex. Foam Cup Insert Lining: 100% polyester, foam 100% polyurethane.
Highlights

Shipping & Returns
Rated

5

out of

5
by
Elizabeth
from
I'm in love!
I was sceptical on every post for breastfeeding bras since I'm a good 38-40DDD when NOT pregnant. I'm also very picky on fabric and feels when it comes to underwear. Saw this add and read a couple reviews, then I ordered an XL to see if it fit. I took off the pads inside and I just fell in love with the bra. It feels like those sublime yoga pants that you've been looking for all your life and BOOM! You find it and wear it and sob when they rip. My bust since doubled up because I'm lucky enough to be able to breastfeed my daughter and I don't even feel a difference in the bra. I now own 4 bras and I'm sure gonna keep 'em as long as I can! Thanks for existing, Bravado!
Date published: 2021-04-13
Rated

2

out of

5
by
Julie
from
Comfortable but not the best quality
I bought two of these bras, they are comfortable and the clip feels secure but still easy to open. HOWEVER less then 8 months after using them (and carefully handwashing ONLY!) the elastic attached from the clip to the base of the bra is starting to wear off, threads and bits of elastic are coming out of it. So I'm pretty disappointed because of that, I would have imagined that this part of the bras would have at least a seam around it, but nope it's just a simple elastic that wears off very easily apparently! Wish I could post a picture to show you. I have a ballet bra that I LOVE and 3 camis. The camis also have that simple elastic thing but they're apparently not wearing off.
Date published: 2021-06-25
Rated

4

out of

5
by
Anna S.
from
A good nursing bra
I am a fifth time mama and have gone through many a nursing bra. These bras are very comfortable and offer good support. I'm not worried about falling out of them when bending over, and with kids, that's important! I feel good wearing them. They don't cut in and they look good under my clothes. I bought a size small, according to the measurements I took, but I think a medium would have been better. They are tight around my chest. Thankfully I had some extensions on hand. My only other complaint is that sometimes the removable pads fold when I pull the panel up after nursing and can look awkward.
Date published: 2021-03-17
Rated

5

out of

5
by
Sophie P.
from
Soft yet supportive
This bra is everything I hoped for and more. It's soft yet supportive and the straps are wide enough to not dig in or cause pain like other bras have. The fabric does stretch a little with wear, so while I initially bought an XL-FC (I'm a 36G), it was a little too big and I ended up getting an L-FC that fits just right for where I'm at now (13 weeks) and the XL will come in handy when my band size is bigger/when my milk comes in. I had doubts as to weather universal cup sizes could possibly work for my G cup, but was pleasantly surprised. I'll be buying more of these for sure.
Date published: 2021-03-18
Rated

4

out of

5
by
Kimberly F.
from
Nursing bra .
Pretty happy with the purchase . Very comfortable . Nice Variety of colours. Seamless. Only issue is after a wear or two I find it starts to ride up at the band . And occasionally the breast pads get scrunched up when opening and closing nursing flap . But overall I'm am very happy with fit and feel . I ordered two sizes to figure out what fit best . And the return process for other was pretty easy . Now I'll know why to order for future . Also I am a large full chested girl and I am pleased with the support considering my size . 38 E . Size XL worked for me .
Date published: 2021-05-12
Rated

5

out of

5
by
Sarah B.
from
Very nearly perfect. Love it!
I used this bra for my first child and ordered more for my second. They are super comfortable, have a lovely shape and offer a nice colour selection. My only criticism is that the foam cup insert is smaller than the bra's fabric for the cup and every time I unclip, nurse and reclip the insert cup gets bent/folded/lumpy. It's definitely annoying having to reach in and adjust it every time. But other than that I love the design! After heavy use the fabric on the bras from my first baby is pilled and less smooth now but structurally the bras are still great.
Date published: 2021-07-18
Rated

5

out of

5
by
Tannaz R.
from
Very comfortable
I loved this bra. It's soft and provides just enough support. I'm not a fan of polyurethane foam pads, so I just took them out. I'm not breastfeeding yet, but when I do in a few months, I'll just Inserts my own nursing pads in the bra. I was 34C pre- pregnancy and so far (I'm at the end of my 2nd trimester) I've grown about 2-3 cup sizes, and the medium fits me now. I will have to see how the bra will fits when my milk comes in, but the material is stretchy and worse comes to worse I'll just buy a bigger size if need be.
Date published: 2021-09-22
Rated

5

out of

5
by
Deena L.
from
I loved this bra when
I loved this bra when I was pregnant! It fit me so well and I really enjoyed it. Once I had my baby, my boobs got bigger when they filled with milk and I find that it doesn't fit me as well anymore but I can't find any bra as comfortable so I still wear it despite the fact that it doesn't fit too well now. One thing I would love would be if the cup inserts were attached because I find that they moved a lot and get crushed every time I nurse. It would be much easier if they were just attached to the material of the bra.
Date published: 2021-08-12