Britax Pinnacle ClickTight G1.1 Harness-2-Booster Mosaic
- We're sorry, this product is no longer available!
- Shop for other products in: Booster Car Seats

This item is a final sale item. Returns cannot be accepted.
Superior convenience, safety, and comfort make the Britax Pinnacle Clicktight their best Harness-2-Booster Seat. With the ClickTight Installation System everyone can install with confidence. SafeCell Impact Protection surrounds your child in safety and Complete Side Impact Protection MAX features external cushions for maximum crash force absorption and a foam headrest to keep your child's head and neck secure.
Product Features:
ClickTight Installation System allows parents to easily achieve a safe and secure installation using the vehicle seat belt throughout the life of the seat, in harness mode, without having to worry about the weight of their child (May not be compatible with all vehicles. See installation instructions.)
Side Impact Cushion Technology features energy-absorbing cushions on the exterior of the child seat to reduce side impact crash energy by diverting crash forces before reaching your child and providing extra protection for the adjacent passenger
Base with SafeCell Technology designed to keep your child safe and secure in a crash by compressing and significantly lowering the center of gravity, reducing the forward movement of the car seat
Features:
Model #E9LZ28X

True Side Impact Protection provides deep side walls and a head restraint with energy-absorbing EPP foam to distribute crash forces, shield from vehicle intrusion, and contain the head, neck and body while keeping them "in true" or aligned
Energy Absorbing Versa-Tether anchors the top of the car seat to the vehicle using a two-point attachment, minimizing the amount of forward movement of the car seat. Stage-released stitching helps reduce the crash forces reaching the child
EZ-Buckle System retains the harness buckle in a forward position and prevents the child from sitting on the buckle when boarding
Integrated Steel Bars strengthen the connection to the vehicle and reduce forward flexing of the child seat during a crash
Tangle-Free, Five-Point Harness (with 9 harness height positions -up to 20.5") distributes crash forces across the strongest parts of the body and provides a secure fit
Two Buckle Positions offer a snug and secure fit for your growing child
Armrests provide a natural and comfortable place to rest arms
Quick-Adjust No-Rethread Harness easily adjusts the harness shoulder height and head restraint from the front of the seat without disassembling the harness straps
Easy transition from Harness to Booster mode without removing harness straps
Integrated Cup Holders and Storage are designed for easy access to children's cups, snacks and toys
120 lb (54.4 kg) Weight Capacity in Booster Mode for safety and comfort as your child grows
65 lb (29.4 kg) Weight Capacity in Harness Mode allows your child to remain harnessed up to 65 lbs (29.4 kg)
Easy-Remove Cover allows easy cleaning without disassembling the harness or uninstalling the car seat
Color-Coded Vehicle Belt Guides provide clear indication of the path and positioning of the vehicle seat belt for use in either harness or booster mode
Harness Ultra Guard System (HUGS) provides resistance to forward movement in the event of a crash
Compatible with SecureGuard which works with the vehicle safety belt in booster mode to prevent the child from sliding under the lap-belt portion of the safety belt during impact, thus minimizing the risk of abdominal injury (accessory sold separately)
Premium LUAS Connectors included
Harness-2-Booster converts to a belt-positioning booster seat
Certified for Aircraft Travel in Harness Mode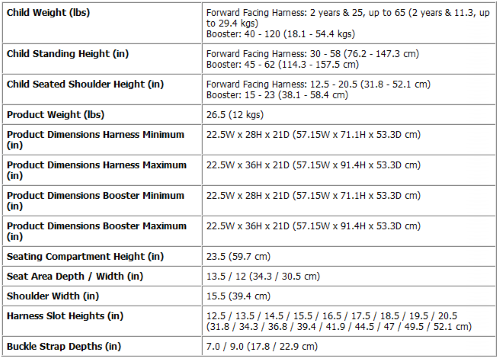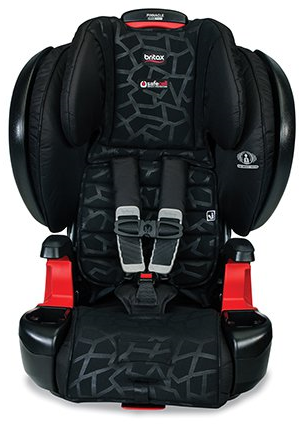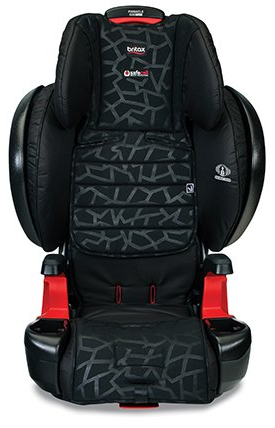 We're sorry! This item does not qualify for free samples.