Brondell FreshSpa Easy Bidet Attachment
Please note: Brondell items ship directly from the supplier, not from Well.ca. Due to the COVID-19 crisis, all Brondell orders are delayed by at least one week.
Say goodbye to toilet paper and experience the new clean!
The Brondell FreshSpa easy bidet toilet attachment is a simple and inexpensive way to retrofit your existing toilet into a hygienic bidet. The FreshSpa easy bidet provides personalized wash settings for maximum comfort and cleanliness. The easy to use controls allow for adjustable water pressure – from a gentle wash to a concentrated stream while the wash nozzle has 3 separate angled positions ensuring accurate coverage for all types of users. The wash wand also has a self cleaning function, which is utilized with the easy to use controls. The FreshSpa is a snap to install on your existing toilet, usually requiring 20 minutes or less, and is compatible with all standard 2 piece toilet fixtures and even fits many contoured one piece toilets (French curve).
The FreshSpa is manufactured with high quality ABS anti-bacterial plastic and has a full body panel making it simple to clean and maintain. The Brondell FreshSpa uses a heavy duty solid brass core internal valve, a solid brass T-valve, and a braided PVC hose with metal connectors, so there are no messy leaks or drips – it's our guarantee! Made of durable, high quality components and backed by Brondell's standard warranty, the FreshSpa is a quality choice for bidet attachments. Why go back to dry irritating toilet paper when you can use the Freshspa!

Features:
Hygienic retractable nozzle
Self cleaning nozzle feature
Ambient temperature bidet wash
Nozzle positioning (3 settings)
Adjustable water pressure
All brass internal valve (the competition's are plastic)
All metal T-valve (the competition's are plastic)
High quality braided PVC hose (the competition uses plastic tubing)
Anti-bacterial ABS material with full body panel
Backflow prevention valve
No electricity or batteries required
Easy installation and adjustable toilet fit
All accessories included for standard installation
1 year warranty from Brondell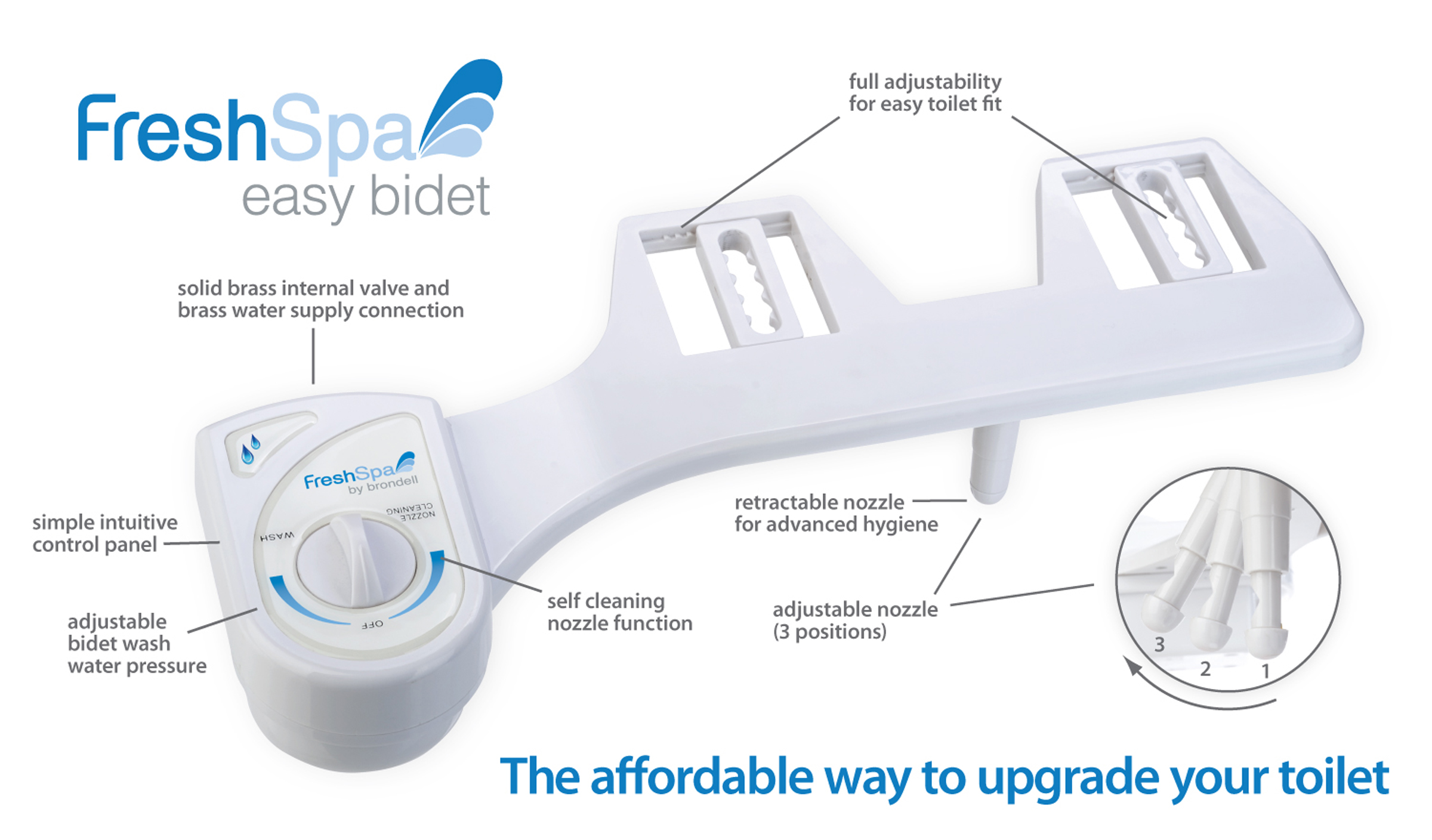 What's included in the box?
FreshSpa easy bidet toilet attachment
7/8" Metal T-valve to connect to your toilet water supply
Braided flexible PVC hose to connect to the bidet & T-Valve
Rubber O-rings for all metal connections
Owner's manual with installation instructions
We're sorry, this item is not eligible for Free Samples.