Brondell LumaWarm Heated Nightlight Toilet Seat
Please note: Brondell items ship directly from the supplier, not from Well.ca. Due to the COVID-19 crisis, all Brondell orders are delayed by at least one week.
Say goodbye to freezing cold toilet seats and glaring bathroom lights during those midnight trips to the bathroom and say hello to the LumaWarm - a welcoming heated toilet seat with the cool glow of a nightlight.
The LumaWarm heated nightlight toilet seat offers the luxury and comfort of a heated seat with the added convenience of a soothing illuminating LED nightlight. There's nothing more jarring than turning on the bathroom light in the middle of the night then sitting down on a freezing cold toilet seat. With the LumaWarm, you will be guided by the soft illuminating glow of the blue nightlight and comforted by the soothing heated seat, set to your personal temperature preference. With 4 temperature setting options (off-low-med-high), the LumaWarm is comfortable all year round. The elegant built in illuminating nightlight has a simple "on/off" button and blue LED light bulb that is energy efficient and long lasting. The LumaWarm heated nightlight toilet seat quickly and easily replaces any existing toilet seat and is adjustable for a perfect fit on any standard fixture.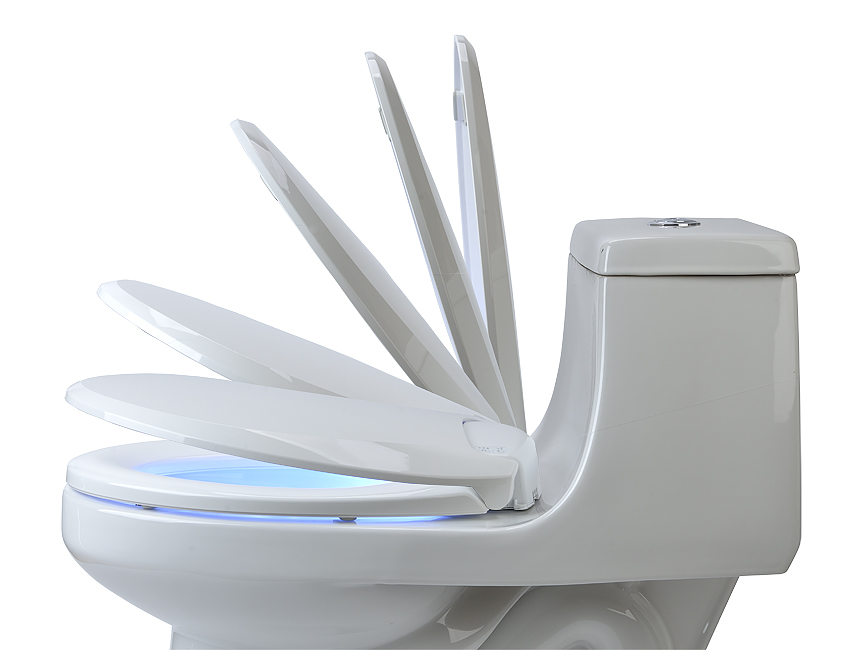 As with all Brondell toilet seats, the LumaWarm has a gentle closing seat and lid with superior style and quality you won't find anywhere else. The LumaWarm heated nightlight toilet seat is a must-have for every bathroom. Don't lose anymore sleep, get the LumaWarm today and start living in luxury and comfort.
Features:
Adjustable heated seat (3 temperature settings)
Illuminating nightlight (blue color)
Long lasting energy efficient LED light bulb
Gentle closing seat and lid
Simple intuitive controls
Fits all standard toilet fixtures
Powered by standard GFI wall outlet
1 year limited warranty from Brondell
This model best fits a round toilet bowl.