Broya
Broya Parsley & Cumin Beef Bone Broth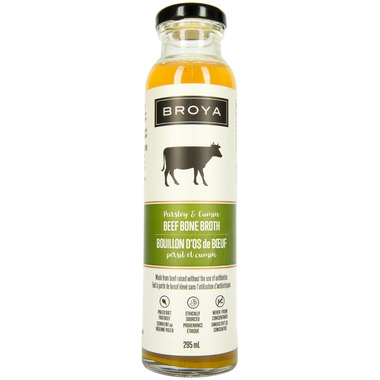 Broya
Broya Parsley & Cumin Beef Bone Broth
Description
Bone broth is an ancient healing food that is not only delicious but also comes packed with everything your body needs such as digestion and improved energy levels.
Broya Parsley & Cumin Beef Bone Broth is made from grass- fed, antibiotic and hormone free beef bones and organic vegetables and spices. The beef broth is simmered for up to 24 hours and prepared with high quality medicinal herbs.
Warm it up and drink straight from the bottle or simply cook with it!
Features:
Slowly simmered for 24 hours
Collagen rich protein beverage
Deliciously cooked with organic spices to drink on the go
Grass- fed

Antibiotic and hormone free beef bones
Organic vegetables
Paleo friendly
No added sugar
Non- GMO
Gluten free
All natural
Not from concentrate
Ethically sourced
Highlights

Shipping & Returns
Unfortunately, due to the nature of this item, we cannot accept any returns.
This product cannot be shipped to Remote locations.
Click here for more information