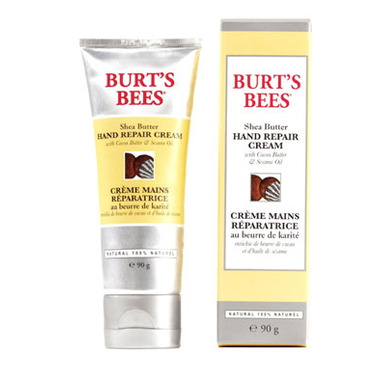 90 g
Burt's Bees Shea Butter Hand Repair Creme
is rated out of
5
by
128
.
---
Description
Shea Butter Hand Repair Creme - Butter is better for softer hands!
99.63% Natural

Your hands deserve a buttery treat. This super rich natural hand cream is perfect for a daily indulgence. Sunflower oil and glycerin are infused with the all-natural goodness of shea butter and essential botanical oils like macadamia nut, rosehip, lavender, neroli and borage, that impart antioxidants and fatty acids to nourish your skin, nails and cuticles.

How to Use: Smooth a small dollop of the cream onto your hands after every handwashing. For a luxurious treat for your skin, massage the cream into your hands, paying close attention to nails and cuticles, then cover your hands with cotton gloves overnight to soothe and seal in moisture.

Featured Ingredient:
Shea Butter — This natural fat obtained from the fruit of the karite tree is a valuable, nourishing addition to moisturizers for the reduction of wrinkles and to improve the elasticity of the skin and protect it against environmental aging.

Ingredients: Aqua (water, eau), helianthus annuus (sunflower) seed oil, stearic acid, cera alba (beeswax, cire d'abeille), glycerin, sesamum indicum (sesame) seed oil, butyrospermum parkii (shea butter), macadamia ternifolia seed oil, rosa canina (rosehip) seed oil, theobroma cacao (cocoa) seed butter, parfum (fragrance), tocopherol, retinyl palmitate, salix nigra (willow) bark extract, borago officinalis (borage) flower oil, calendula officinalis flower, plantago lanceolata (plantain) leaf extract, alchemilla vulgaris (lady's mantle) leaf extract, rosmarinus officinalis (rosemary) leaf extract, beta-carotene, xanthan gum, sucrose stearate, glucose, glycine soja (soybean oil), canola oil (huile de colza), olus (vegetable oil, huile vegetale), sodium borate, sodium chloride, glucose oxidase, lactoperoxidase, benzyl alcohol, citral, citronellol, eugenol, geraniol, limonene, linalool.
Highlights

Rated

5

out of

5
by
Beachbelle16
from
Best hand cream for cracked skin
I am a healthcare provider and have used this for YEARS and it is invaluable during Covid with all the extra alcohol sanitizing. My hands literally hurt at times. Yes, this cream Is thick. I use it "backwards" if you will. Once expressed, I put on the TOPS of my hands and use them to spread around. Next use the palms to cover my fingers. Lastly, wipe palms on my elbows to remove the thickest parts. Honestly, the relief can last through three hand washings at work which is Huge. Some comment on the smell. Is is earthy and essential oil-like, Others comment it has a lavender scent. Whatever it is, I Love IT. Highly Recommend!
Date published: 2021-01-18
Rated

4

out of

5
by
WildKatGal
from
The fragrance burns my eyes, but the cream works.
I still can't figure out what the fragrance is, but the first time I put this on my hands was at night, and the odor literally burned my eyes. I now use it long before going to bed. I still don't like the smell (and I wish Burt's Bees would tell us what that "fragrance" is because every review site I see talks about it), but it IS the best hand cream I've ever used. A little goes a long way, and it's absorbed quickly. The smell does go away after a while. Burt's Bees--please offer an unscented version of this miracle cream.
Date published: 2016-12-21
Rated

5

out of

5
by
Andrea1661
from
I am forever in love
I've been buying this cream for years now and I will not stop. A lot of people say the smell is off putting but to me smells incredible! it is like aromatherapy and moisturizer, it is amazing my hands and elbows love this cream. If you have rough elbows or very dry hands and you like natural ingredients, this is the product to buy. They kind of changed the way the presented the cream and I was afraid they change the scent too, but now this one is even better! You will not regret this purchase. Excellent! in fact if they could sell it on a bigger amount I would be definitely buying it! Thank you.
Date published: 2017-02-22
Rated

5

out of

5
by
Teresa34
from
If a nurse says it works, it does!
I've used Burts Bees products for years and years, before it was cool and your only option was ordering from their site. I've been an RN for almost 35 years and this cream is without a doubt the best hand cream ever. Yes, it has an unusual scent and yes it looks like Irish butter when you squeeze it out of tube, it's not a girly store cream. I cannot extol the virtues of this cream enough, I wash my hands countless times a day and my hands would be red, chapped and bleeding were it not for this cream. As a side note, PLEASE do not stop making this product Burt's Bees!
Date published: 2021-02-08
Rated

2

out of

5
by
Jvsla50
from
Horrible consistency
I had high expectations for this hand cream because Burt's Bees products have a good reputation. Unfortunately this hand cream lets that reputation down. The consistency is not smooth and comes out of the tube in lumps which means distributing it around both hands is not the smooth gliding action you normally get from hand creams. The smell is unique - definitely not to my taste and difficult to describe. I have to put other products on top of it to disguise the smell which I find quite repulsive. It is quite greasy although ultimately it is probably a good hand care product. Unfortunately the rest of my tube will be going in the bin.
Date published: 2021-04-23
Rated

4

out of

5
by
emews
from
Pros and cons
My hands are extremely dry and sensitive and this lotion does help to keep my hands happy. I will say, it is really hard to get out of the container, I mean you really have to squeeze. The smell and texture can also be off putting. It is just very thick and slick so it takes a bit longer to coat your hands. It is also quite greasy since it is such a heavy moisturizer. I much prefer the baobab ultimate care hand cream for daytime because it is lighter and just as moisturizing without being greasy. I've been using it for a while since I ran out of the baobab cream, but I'll definitely be moving it to my night time routine because that seems to be a better place for it. So overall, I'm not mad at it, but it is very heavy for daytime. It takes some planning to figure out when you should put it on so you can let it absorb fully. It definitely does its job though and is a good moisturizer!
Date published: 2017-01-07
Rated

1

out of

5
by
ChrisA1
from
Terrible smell!
I bought this product today for my daughter (have liked all the Burt's Bees products purchased previously). When she opened it, she said it must have gone bad as the smell was so awful. I thought she was exaggerating but no...it is REALLY bad. It doesn't smell at all like Shea. It smells medicinal and off. To call it Shea butter is misleading. It's so bad, I can't use it (and I don't normally waste something I've bought but it just can't be used). Really disappointed. Wish I could get my money back. BTW, I am in my 50's and this is the first negative review I've been compelled to write. Would love to hear back from the company.
Date published: 2019-04-10
Rated

4

out of

5
by
CN280
from
Works amazing!
I have had this half used tube my daughter gave me for a few years now. I recently had hip replacement surgery and my scar was pulling and stinging. I have used this product only a few times and I love it. The skin quit pulling and the scaring quit burning. I am not a lotion person because I find most of them greasy. This one is somewhat greasy but it is a tough working salve for scaring. If I had used it regularly I might even have a less red scar, I don't know because I didn't use it regularly. The amazing thing is after just once the skin stopped pulling. I gave it only 4 stars because the smell is a little musty and you have to rub your hands alot to rub in the greasiness.
Date published: 2021-06-22