CanPrev
CanPrev Collagen Joint & Cartilage Powder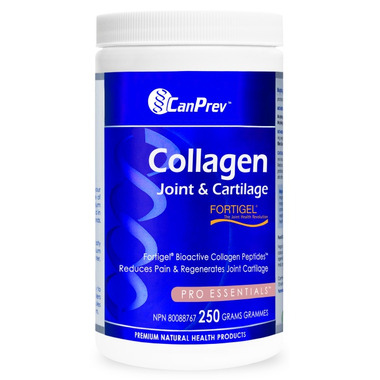 CanPrev
CanPrev Collagen Joint & Cartilage Powder
Description
CanPrev Collagen Joint & Cartilage Powder helps to reduce joint pain associated with osteoarthritis. Source of the essential amino acid lysine to help in collagen formation.
Dosage: Adults - Mix one (1) to two (2) scoops in water one (1) time per day or as directed by a healthcare practitioner.For joint pain, use for a minimum of 5 months to see beneficial effects.
Active Ingredients: (1 scoop)Fortigel Bioactive Collagen PeptidesTM 5gType I and III Hydrolyzed Collagen (bovine)?*

Caution: As with any natural health product, you should consult a healthcare practitioner on the use of this product, especially if you are pregnant or breastfeeding, or if you have liver or kidney disease or if you have been instructed to follow a low protein diet. Do not use if seal is broken. Keep out of reach of children.
Highlights

Ingredients
Active Ingredients: (1 scoop)Fortigel Bioactive Collagen PeptidesTM 5gType I and III Hydrolyzed Collagen (bovine)?*
Shipping & Returns