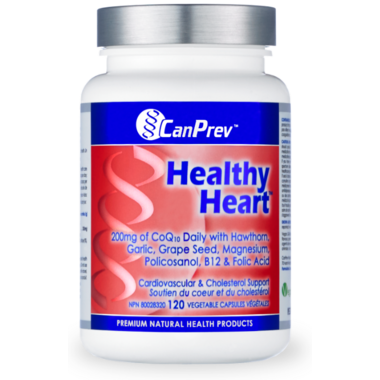 Description
Healthy Heart is an all natural herb and nutrient formulation developed to support cardiovascular health and healthy cholesterol levels.

Healthy Heart combines an impressive 200 milligram dosage of the heart-specific antioxidant Coenzyme Q10 with a rich blend of polyphenols, herbs and vitamins, shown by research, to aid in the maintenance of cardiovascular health, cholesterol levels, proper formation of red blood cells and the metabolism of proteins, fats and carbohydrates.

The antioxidants found in Healthy Heart may also help protect the cardiovascular system against oxidative damage resulting from excessive free radical activity.

Recommended Dosage: (Adults) Take two capsules two times per day with food, a few hours before or after taking other medications, or as directed by a healthcare practitioner. Take for a minimum of 2 months to see beneficial effects. Consult a healthcare practitioner for use beyond 3 months.

Medicinal Ingredients: Each capsule contains: Garlic extract bulb, 2% allicin 150mg, Hawthorn extract (crataegus laevigata) leaf/flower, 18.75% OPCs as epi-catechin 100mg, Grape seed extract (vitis vinifera) 95% OPCs 94mg, Magnesium (magnesium bisglycinate) 56mg, Coenzyme Q10 (ubiquinone) 50mg, Policosanol (sugar cane wax) 5mg, Vitamin B12 (methylcobalamin) 250mcg, Folate (folic acid) 200mcg.

Non-Medicinal Ingredients: Hypromellose, Magnesium Stearate

Caution: As with any natural health product, you should consult a health care practitioner on the use of this product especially if you are pregnant, breastfeeding or are taking any medication including blood thinners, anti-coagulants (such as warfarin), anti-platelet drugs (such as acetylsalicylic acid), blood pressure medication, protease inhibitors, or cardiac glycosides such as digitalis or digoxin or have a medical condition including diabetes or a blood clotting disorder. Consult a health care practitioner if symptoms persist or worsen. Do not use if seal is broken. Keep out of reach of children. Hypersensitivity (e.g. allergy) to garlic has been known to occur; in which case, discontinue use.

Highlights

Ingredients
Medicinal Ingredients: Each capsule contains: Garlic extract bulb, 2% allicin 150mg, Hawthorn extract (crataegus laevigata) leaf/flower, 18.75% OPCs as epi-catechin 100mg, Grape seed extract (vitis vinifera) 95% OPCs 94mg, Magnesium (magnesium bisglycinate) 56mg, Coenzyme Q10 (ubiquinone) 50mg, Policosanol (sugar cane wax) 5mg, Vitamin B12 (methylcobalamin) 250mcg, Folate (folic acid) 200mcg. Non-Medicinal Ingredients: Hypromellose, Magnesium Stearate
Shipping & Returns