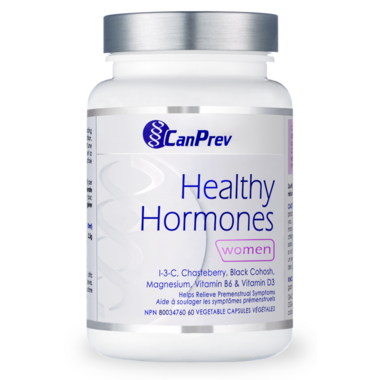 60 Capsules
CanPrev Healthy Hormones
is rated out of
5
by
7
.
---
Description
Healthy Hormones is an all natural formula designed to help promote healthy detoxification of estrogen and to improve symptoms related to PMS.

Healthy Hormones contains traditional herbs like chasteberry and black cohosh, which have been used to provide relief from symptoms associated with PMS. This formula will help relieve PMS symptoms such as painful menstruation and also help to ease nervous tension.

In addition, it also contains a significant dosage of 400 milligrams of indole-3-carbinol, shown by research to improve the liver's ability to metabolize and detoxify harmful estrogens.

Healthy Hormones provides a well rounded nutritional support for the proper production, use and excretion of hormones in the body (particularly harmful estrogen by-products), thereby helping to improve symptoms of PMS.

Highlights

Ingredients
Per capsule Indole-3-carbinol 200mg Chasteberry extract 4:1 (vitex agnus castus) 200mg Magnesium (bisglycinate) 75mg Vitamin B6 (pyridoxine HCL) 25mg Black Cohosh (actaea racemosa) 20mg Vitamin D3 (cholecalciferol) 500IU Non-medicinal ingredients: Vegetable-grade magnesium stearate (1%), vegetable capsule.
Shipping & Returns
Rated

5

out of

5
by
Turn off the A/C
from
Really Working!
I bought them because they were recommended for my menopausal symptoms: constant hot flashes, terrible sleep, etc. After less than 3 weeks I can't believe the change! I barely have any problems at all. I actually don't mind the smell and taste, and I am someone who never stays on any supplement routine and hates swallowing pills. Really happy :)
Date published: 2020-08-12
Rated

3

out of

5
by
Mamab
from
So far so good
These supplements smell and taste bad (reminds me of the smell of mothballs in my grandparents closet haha) but seems to be working well so far for what I was trying it for. I am in my 30s with adult acne, and seem to only break out during my period. I began taking them last month after my period and noticed I had no new breakouts when the time came for my next period. If anyone has any other recommendations to take for hormonal acne, I would appreciate to hear what has worked for you. Thank you.
Date published: 2021-01-26
Rated

5

out of

5
by
sylvia
from
Great product
Mt doctor and Naturopath checked my hormones with a blood test, and the results were not very "healthy". My estrogen was perimenopausal ( at age 35) and my testosterone was super low. In addition, my menstration cycle was all over the place and symptoms such as cramps, bloating and heavy days were so frustrating. After taking this for 6 months and re checking my blood work. All my hormones are in check and equal !!!
Date published: 2021-10-22
Rated

4

out of

5
by
MelMa
from
Hopeful
Have not been taking it long enough for a fully honest review. Yes it smells horrible but it's a quick down the hatch. I also found if I take it on an empty stomach I get extremely nauseous.
Date published: 2020-05-28
Rated

5

out of

5
by
Bev
from
Exactly what I hoped it would do!
My period has been irregular (once every few months) for years since I got off birth control. I started taking these a few months ago thinking it's worth a shot (but remaining cautiously optimistic) - and am currently on my second consecutive month with a regular period! I'm beyond happy to feel like my normal self again.
Date published: 2020-08-24
Rated

1

out of

5
by
Michelle
from
Smell and Taste Horrible
I didn't even take these long enough to know if they work, so this review is only based on smell and taste. It's is like swallowing a pill of bad breath, and then you burb them up for the next hour (and I'm not a butler). They smell and taste so bad I can't bring myself to take them anymore. Very disappointed, especially since they are an expensive supplement.
Date published: 2021-02-18
Rated

5

out of

5
by
karencw
from
Works for my perimenopause symptoms
My ND suggested I try these for my hormonal migraines. I was willing to try anything they were so debilitating. My migraines have all but disappeared.
Date published: 2023-08-26