CanPrev Joint-Pro Concentrate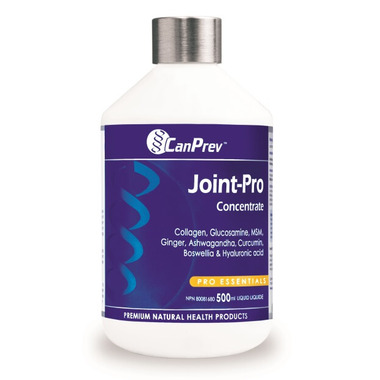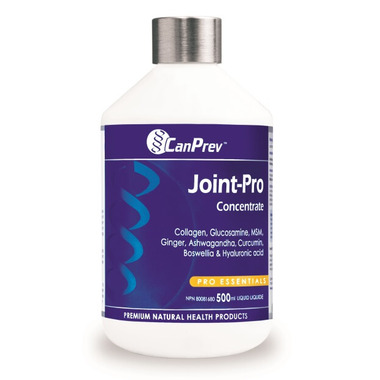 CanPrev Joint-Pro Concentrate
Our joints make walking, bending, sitting and even writing possible. Keeping them flexible and fluid as we age is important to avoiding the pain and stiffness that can set in from overuse and inflammation from diseases like osteoarthritis.
CanPrev's Joint-Pro Concentrate is a complete joint pain relief formula made with hydrolyzed collagen, hyaluronic acid and glucosamine in a liquid form for optimal absorption and a more versatile dosing method. These naturally occurring compounds are critical components of cartilage, bones, tendons, ligaments and the synovial fluid that cushions the joints. Devil's Claw, Ginger, Curcumin and Boswellia will work synergistically to reduce pain and swelling.
Active Ingredients:
Each tablespoon (15ml) contains
Hydrolyzed collagen (bovine) 1800 mg
Glucosamine sulfate 1500 mg
Methylsulfonylmethane (MSM) 750 mg
Ginger extract (zingiber officinale) rhizome, 8:1 100 mg
Ashwagandha extract whole plant, 5:1 200 mg
Devil's claw extract (harpagophytum procumbens) root tuber, 4:1 500 mg
uC3 Clear™️ (curcumin, curcuma longa)* 50 mg
Boswellia extract (boswellia serrata) resin, 10:1 100 mg
Hyaluronic acid (sodium hyaluronate) 50 mg
Licorice (glycyrrhiza glabra) root, 4:1 15 mg
Zinc (TRAACS®️ Zinc Bis-Glycinate Chelate)** 15 mg
Vitamin C (ascorbic acid) 30 mg
Non-Active Ingredients:
Purified water, sorbitol, gllycerin, xylitol, natural green apple flavour, DL-malic acid, potassium sorbate, santhan gum, monk fruit extract, citrus extract, povidone K-30, licorice root extract
Directions:
Adults - Take one tablespoon (15mL) per day or as directed by a healthcare practitioner. Shake gently before use. Refrigerate after opening.
Caution: Do not use if you have hypokalemia, high blood pressure, or a kidney or cardiovascular disorder or if you are taking thiazide diuretics, cardiac glycosides, corticosteroids stimulatnt laxatives or other medications which may aggravate electrolyte imbalance.
Caution:
As with any natural health product, you should consult a healthcare practitioner prior to use of this product, especially if symptoms persist or worsen; and prior to use if you are pregnant, breastfeeding, or taking medication including antiplatelet mediation or blood thinners, or have a medical condition including liver disorder, gallstones, bile duct obstruction, allergies to shelfish, stomach ulcers, or excess stomach acid. Consumpution with alcohol, other drugs or natural health products with sedative properties is not recommmneded. Do not use if seal is broken. Keep out of reach of children.
Side Effects:
Hypersensitivity (e.g. allergy) has been known to occur and some people may experience mild gastrointestinal disturbances such as diarrhoea, abdominal pain, heartburn, nausea, and vomiting; in which case, discontinue use.