CanPrev Joint-Pro Formula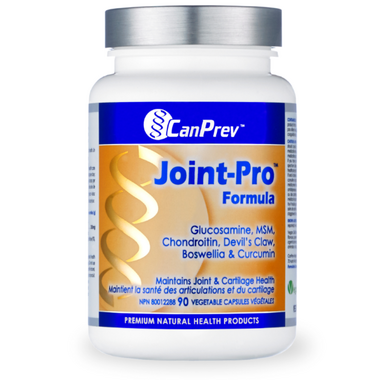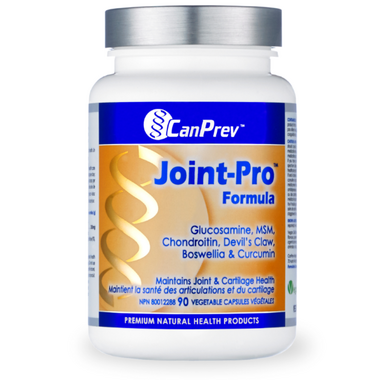 CanPrev Joint-Pro Formula
Joint-Pro Formula is a supportive therapy for joint pain and osteoarthritis.

Joint-Pro Formula contains a synergistic combination of natural ingredients that help maintain healthy joints and cartilage, while targeting pain and inflammation with natural and well researched anti-inflammatory agents.

Joint-Pro Formula contains glucosamine and chondroitin, which are natural molecules found in the body that serve as the building blocks in the formation and repair of cartilage and other body tissues.

The loss of cartilage that cushions joints is what makes the joints prone to damage and may lead to pain, swelling, loss of movement and further deterioration.

Joint-Pro Formula provides the body with the essential nutrients it needs to maintain healthy joints while at the same time reducing pain and inflammation with natural anti-inflammatories such as devil's claw, curcumin (from turmeric) and MSM.

Ingredients: Per capsule
Glucosamine HCI (shellfish) 400mg
Methylsulfonylamethane (MSM) 200mg
Chondroitin sulfate 90% (bovine) 180mg
Devil's claw (harpagophylum procumbens) 4:1 50mg
Boswellia serrata extract (45% boswellic acid) 50mg
Curcumin (turmeric) 48mg
Non-medicinal ingredients: Vegetable-grade magnesium stearate (1%), vegetable capsule.

Kathy Wms:
more than a year ago
I recommend this to anyone who has joint pain. I've now been using it for a few months and I can now bend my knee and walk most days whereas before I could barely bend it or walk. This product plus the Tiger Balm Arthritis Rub have reduced my pain and stiffness and allowed me to do things again. This Joint Care might even be better than the Celebrex, which I was taking before.
Kathy Wms:
more than a year ago
I haven't used this long enough to give it 5 stars but a friend of mine told me about it and he said that after using it for a month or two, his bad knee pain disappeared. I'm following the directions on the bottle, and it might have started to make a difference in my knee, which I can hardly bend. Am waiting to see if longer use will produce a bigger change.
Page
1