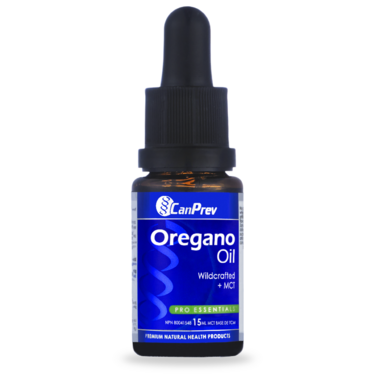 Description
Oregano is a powerful antioxidant that helps the body to fight against the negative effects of toxins. Oil of oregano has been used traditionally for centuries to help ward off cold and flu's and it is currently being studied by for its anti-microbial properties.

CanPrev oil of oregano is a superior quality oregano oil that is cold-pressed from wildcrafted oregano grown in the mountains of the Mediterranean. Their oil of oregano contains a high content of 75% carvacrol. Carvacrol is a constituent found naturally in oregano oil and has been shown through research to possess potent antimicrobial and antioxidant properties. CanPrev's oil of oregano is suspended in medium chain triglycerides (MCT) from coconut and palm oil. MCT is a preferred choice for an oil base (better than olive oil for example) as MCT oil from coconut and palm does not change its molecular structure (or go rancid) from light, heat or over time.

Be warned though - oregano oil has a flavour that certainly packs a punch! Take it one drop at a time, under the tongue or put a drop into some honey and enjoy.

Recommended Use: Antimicrobial and as a source of antioxidants.

Directions: Adults: take 4-6 drops per day, or as directed by a healthcare practitioner.

Highlights

Ingredients
Medicinal Ingredients: Oil of Oregano 75% carvacrol. Non-medicinal ingredients: Medium-chain triglyceride oil
Shipping & Returns